Zimmer Hip Lawsuit Moved From Idaho to Federal Court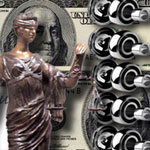 Erika Oliver's Zimmer hip lawsuit, which she originally filed on July 18, 2012 in the Fourth Judicial District Court for Ada County, Idaho, was transferred to the state's federal court, the U.S. District Court for the District of Idaho, on August 6, 2012 because of timeliness, the amount in controversy (more than $75,000) and diversity of citizenship (Oliver lives in Idaho, but Zimmer is a Delaware corporation with its principal place of business in Delaware).
Plaintiff suffered hip fracture and other injuries due to Durom cup, lawsuit claims
According to her complaint, Oliver had hip replacement surgery in October 2006 during which she was implanted with the Zimmer Durom cup. Shortly thereafter, she began to exhibit signs of implant fracture, and will need corrective surgery. Her Zimmer hip lawyer alleges that the implant was "defective and caused, and will continue to cause, her damages."
Oliver's lawsuit brings counts of failure to warn, strict product liability, negligent product liability, and breach of warranty, and seeks special and general damages for pain and suffering, personal injuries, disfigurement, emotional distress, loss of enjoyment of life, and physical impairment.
Despite numerous lawsuits, no U.S. Durom cup recall
Oliver is just one of many plaintiffs alleging complications from the Zimmer hip replacement. Other plaintiffs have claimed that the Durom cup failed and caused them to suffer complications including bone damage, implant loosening, pain, impaired mobility, and failure to bond properly with the patient's bone.
In 2008, orthopedic surgeon Dr. Larry Dorr, Director of the Dorr Institute for Arthritis Research and Education, sent a memo to the American Association of Hip and Knee Surgeons expressing concern about the Durom Cup's failure rate. Dr. Dorr noted that of the 165 patients he had implanted with the Durom cup, 14 had needed revision surgery within two years.
In July 2008, Zimmer temporarily suspended sales of the Durom cup because of the high number of reports of complications. But after a brief period of review, the company denied liability and put the implant back on the market in the U.S. To this day, there has been no recall of the Durom cup in the U.S.
[SmartLink zimmerhiplawsuit]