Zimmer Knee MDL Lawsuit Amended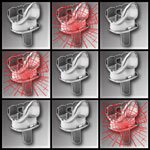 A lawsuit in the multidistrict litigation for lawsuits involving Zimmer knee problems from the NexGen line of knee implants was amended recently. The plaintiff, Charles Crossnoe of Maury County, Tennessee, and his wife Sharon, who is a co-plaintiff, had originally used the MDL's master long form complaint in filing their lawsuit on January 12, 2012. On July 31, 2012, the plaintiffs adopted the short form complaint to make changes or add information to the suit. The short form and long form complaints together will form an amended complaint for the Crossnoes.
Component that allegedly caused plaintiff's injuries was later recalled
According to the lawsuit, Crossnoe, who is now 71 years old, had surgery at Centennial Medical Center on February 6, 2007 during which he was implanted with the Zimmer NexGen device in his left knee. In March 2007, a mere month after the implant surgery, he began to suffer complications allegedly caused by a Zimmer NexGen MIS tibial component.
Three years after his surgery, in September 2010, certain NexGen MIS tibial components were the subject of a Zimmer knee replacement recall because of numerous reports of implant loosening, instability, pain, infection, and osteoarthritis linked to the devices.
A study performed by the Mayo Clinic also found serious problems with the Zimmer NexGen tibial component. Researchers looked at the outcomes of 1,300 total knee replacements done at the clinic between 2000 and 2011, and found that overall, the implant failure rate of Zimmer knee implants was 3.9 percent, with half of those failures involving implant loosening. Of those cases, more than 80 percent were caused by loosening of the tibial component. The study noted that these complications did not commonly occur with the other implant devices used at the clinic.
Lawsuit claims Zimmer concealed risks of device
In his lawsuit, the plaintiff says that neither he nor his physician were aware of the problems linked to the NexGen implant before he had his surgery, and that only after he began suffering complications did he and his physician realize that the implant might be defective. He claims that Zimmer is liable for his injuries because the company allegedly concealed the risks associated with the NexGen knee implant, and failed to warn the public or the medical community.
Crossnoe brings claims of failure to warn, negligence, design defect, and breach of warranties, and his wife Sharon claims loss of consortium. They seek compensatory and punitive or exemplary damages.
[SmartLink zimmerkneelawsuit]