Zoloft Litigation Shines Spotlight on SSRI Side Effects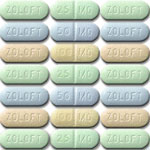 Zoloft was approved and put on the market in the U.S. in 1991. It is one of the class of anti-depressants known as selective seretonin reuptake inhibitors, or SSRIs, and is often prescribed to treat patients suffering from depression, panic disorders, obsessive compulsive disorder, and other psychological maladies. However, Zoloft and other SSRIs have come under fire over the past decade due to the proliferation of adverse event reports and lawsuits from patients who have suffered side effects of Zoloft and other SSRIs.
In fact, due to the large number of lawsuits, the U.S. Judicial Panel on Multidistrict Litigation established a Zoloft MDL in the U.S. District Court, Eastern District of Pennsylvania.
Zoloft and suicide
Among the side effects linked to Zoloft is suicide. In lawsuits, plaintiffs have alleged that Pfizer, the drug's manufacturer, knew or should have known that use of Zoloft increases the risk of suicide, but failed to warn the public or the medical community. It wasn't until 2004 (a full 13 years after Zoloft was first put on the market) that the FDA ordered all SSRIs to add a warning on their labels about the increased risk of suicidal behavior.
Pfizer itself commissioned a study which found that children who took Zoloft were four times more likely to kill themselves as children who had not taken the drug. In 2007, the FDA required an update to the label warning that the drug was associated with a heightened risk of suicidal behavior in young adults aged 18-24.
Zoloft and birth defects
Zoloft has also been found to cause severe birth defects in children whose mothers took Zoloft while pregnant. Birth defects from Zoloft include club foot and other limb abnormalities, cleft lip and cleft palate, persistent pulmonary hypertension, craniosynostosis, skull malformations, and heart defects.
Side effects from other SSRIs
Other SSRIs such as Paxil, Prozac, and Lexapro have also been the subject of lawsuits over side effects. In fact, pharmaceutical company GlaxoSmithKline has already paid out more than $1 billion in settlements for Paxil lawsuits. In 2010, the company set aside an additional $1.4 billion for future settlements. A Paxil MDL was established. Many of the lawsuits in the MDL were related to patients' withdrawal symptoms, but Paxil has also been associated with birth defects.
Prozac has been the subject of an FDA Safety Warning about the risk of birth defects and has also been associated with suicidal behavior and thinking.
Lexapro, too, has been linked to birth defects, as well as other side effects including muscle weakness, sexual dysfunction, and increased risk of heart attack.
[SmartLink zoloftlawsuit]