Indiana Stryker Trident Hip Lawsuit Transferred from State Court to Federal Court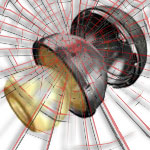 On September 5, 2012, plaintiff Darlene A. Gray's Stryker hip lawsuit was removed from the Superior Court of the State of Indiana for the County of Marion to the United States District Court, Southern District of Indiana, which is a federal court, due to federal diversity jurisdiction.
Plaintiff claims pain, squeaking and popping from Stryker hip
According to her lawsuit, Gray was implanted with a Stryker Trident hip system in her right hip at the recommendation of her physician because she had been suffering from avascular necrosis in that hip for years. But after being implanted with the device, Gray claims she began experiencing pain in that hip, as well as popping and squeaking noises whenever she moved. She ultimately was forced to undergo a surgical Stryker hip revision, the lawsuit states.
Gray's Stryker hip lawyer brings negligence and defective product claims. She seeks damages for pain and suffering and medical expenses.
Stryker recalls
In 2008, Stryker recalled two components of the Trident hip systems, the Trident Hemispherical Cup and the Trident Acetabular PSL cup, as a result of numerous reports of patients experiencing complications including pain, squeaking, popping and clicking, and bone fractures.
In 2012, Stryker issued a recall of its Rejuvenate system due to reports of patients suffering pain, bone fractures, corrosion, deterioration, and metal poisoning.
Prior to the recalls, the FDA had warned Stryker several times about violations at its factories. In March 2007, the FDA cited Stryker for violations at its factory in Cork, Ireland. Eight months after that warning, in November 2007, the FDA sent Stryker a warning about a staphylococcus contamination at its Mahwah, New Jersey factory. In addition, the FDA warned Stryker about its failure to address and resolve the problems with the Trident implant, including poor bonding with patients' bone.
Like Gray, many patients who have suffered complications from the Stryker Trident hip have filed lawsuits against Stryker. Some of these lawsuits have been consolidated in the New Jersey Superior Court of Atlantic County under Judge Carol Higbee. The goal of such consolidation litigation is to make the the judicial process swifter and more efficient and bring cases to a speedier resolution.
[SmartLink strykerhiplawsuit]