A Lawsuit Alleges Takeda Pharmaceuticals Did Not Adequately Warn of the Risk of Bladder Cancer From Actos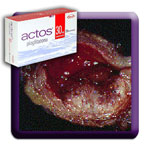 On September 4, 2012, Leo Osborne filed a lawsuit against Takeda Pharmaceuticals alleging he contracted bladder cancer resulting from Actos. Osborne, a Utah resident, filed his case in the Circuit Court of Cook County, Illinois. Similar to other litigants who have filed a class action lawsuit alleging problems with the diabetes drug, it is Osborne's claim that the manufacturer did not adequately warn doctors and patients of the potential risks when taking it. Osborne brings counts of strict liability and negligence.
A three-years study found a higher risk of bladder cancer from Actos vs other medications
Actos was approved by the FDA in 1999. Through his Actos attorneys, Osborne claims that the manufacturer concealed knowledge that the medication could cause bladder cancer. A two-year animal study had shown the potential of Actos to lead to cancerous tumors.
A 2005 three-year study by PROactive had examined Actos and its cardiovascular effects. It was while this research was in progress that scientists noticed patients using Actos were at a higher risk of bladder cancer than those taking other medications. The FDA issued a safety announcement in 2010. It said they were looking into the relationship between Actos to bladder cancer. In spite of this, Takeda failed to take action with a warning for patients and doctors.
In 2011, an increased risk of bladder cancer in relation to Actos was issued by several agencies.
An updated safety announcement was issued by the FDA on June 15. In it, the warning states that a 40% increase in the risk of bladder cancer was associated with Actos. This was six days after the French Medicines Agency suspended the use of the drug. France implemented a recall of Actos in July, 2011.
Osborne was unaware of any connection between the drug and bladder cancer until the FDA warning in June if 2011. He notes that the French recall had no bearing on the U.S. decision of issuing a similar recall as one has yet to be implemented.
The plaintiff in this case filed an individual case, while others have filed a class action lawsuit
In his complaint, Osborne claims that he was prescribed Actos for long-term maintenance of Type II diabetes. Osborne claims that, as a result of taking Actos, he was diagnosed with bladder cancer.
Because of his bladder cancer, Osborne says he will need ongoing medical care and treatment, and has suffered mental and physical pain and suffering. He also says that he has experienced economic losses in conjunction with his medical expenses due to his health problems after Actos.
Osborne filed an individual lawsuit against Takeda. He is the only plaintiff in the case. In a lawsuit that involves multiple plaintiffs, however, may qualify to join a class action lawsuit against the manufacturer.
An example of this is in Louisiana where a class action lawsuit was filed on behalf of two patients who used Actos and developed bladder cancer. In this type of case, it is typical for a small number of plaintiffs to serve as representatives for a larger number of people injured by the drug. In such a case, settlements or jury awards would be split among the patients involved.
[SmartLink actoslawsuit]