A Lawsuit is Filed Against Stryker After a Plaintiff Endures Three Dislocations of His Hip Replacement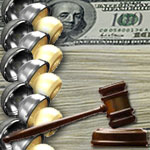 A Stryker hip implant lawsuit was filed on July 5, 2012 in the U.S. District Court of Texas (Houston). Mel Harrison, a 44-year-old corrections officer and resident of Texas named as defendants Stryker Corporation, Stryker Sales Corporation, and Howmedica Osteonics Corp. Harrison's case was filed in federal court because his claim of complications with Stryker hip meets the requirements for diversity and amount in controversy, which is in excess of $75,000.
Harrison was diagnosed with severe left hip degenerative joint disease and, on November 29, 2010, underwent a left hip arthroplasty. During surgery, the plaintiff was implanted with Stryker's Alumina Ceramic V40TM Femoral Head device.
According to his lawsuit, he claims that, "Despite following all of his surgeon's instructions after his surgery including rehabilitative programs [Harrison] began to experience incrementally increasing levels of pain in his left hip."
Plaintiff's hip dislocates three times in two weeks
Harrison awakened to excruciating hip pain from a dislocated hip on December 2, 2010. He spent the day in the hospital and returned home. His hip dislocated for a second time and he returned to the hospital. On December 16, 2011, his hip dislocated for a third time, and Harrison was again rushed to the emergency room.
In his lawsuit, Harrison claims that the manufacturer was aware of possible problems with its hip devices for years before he underwent his initial hip surgery. On January 22, 2008, the company issued a Stryker Trident hip recall of the PSL and Hemispherical Shells manufactured in their Cork, Ireland facilities.
Harrison's complaint states that, "The cup implanted into Plaintiff's body should have been included in the recall. According to publicly available information on the FDA website, the recall included all lots of the Trident Hemispherical Acetabular Shells."
Harrison charges Stryker with strict liability, unreasonable dangerousness, failure to exercise ordinary care, negligence, breach of express and implied warranties, and violation of the Texas Deceptive Trade Practices Act (DTPA).
He requests damages for physical pain, mental suffering, physical impairment, disfigurement, medical bills, attorneys' fees, and court costs.
Total hip revision surgery is needed
According to his claim, "During his follow-up appointment with his surgeon, Mr. Harrison was advised that acetabular components used in his surgery were defective and his surgeon recommended a revision surgery."
During the following months, Harrison was required to stay in bed and avoid any movement. The plaintiff reportedly became paranoid and depressed, and worried that he would never regain independence or walk normally again. He was medicated for extreme mental anguish. He was forced to submit to Stryker hip implant revision surgery.
[SmartLink strykerhiplawsuit]