A New Lawsuit Against Zimmer Alleges Hip Failure Was Due to a Faulty Device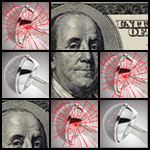 On August 28, 2012, a lawsuit against Zimmer was filed in California by a plaintiff who claims his injuries after hip replacement surgery were due to a faulty implant device. The case was filed in the Superior Court of Los Angeles County. According to his Zimmer hip attorneys, the plaintiff also asserts that Zimmer failed to warn the medical community or the general public about the risks associated with the device. The company has never issued a recall for the device in question in spite of numerous patient claims that have already been settled by the manufacturer.
A preferable hip replacement option for younger patients fails within a few years
The plaintiff claims to have been implanted with the Zimmer Metasul Durom Acetabular Component. Featuring a metal-on-metal construction, this device has been advertised by the company as a preferable option for younger hip implant patients. Touted for its durability, the metal design is meant to allow younger patients to go much longer on their first hip implant without subsequent surgeries to replace a worn device.
However, some patients who underwent Zimmer hip surgery and received this device found that early hip failure caused them to require revision surgery much sooner than expected, with some patients requiring a replacement hip within just a few short years after the original procedure.
Plaintiff claims the device failed shortly after implantation
In this filing alleging complications from his implant surgery, the plaintiff claims that his device failed shortly after it was implanted, causing him pain and extreme weakness in his treated hip. He alleges he will continue to suffer "pain and suffering, disability, disfigurement," and economic loss due to continuous medical bills, pharmaceutical costs and lost wages.
The plaintiff names specific representatives of Zimmer as defendants in the complaint, as well as Zimmer Inc. and Xcel Medical. The lawsuit states that these individuals were responsible for distributing the Durom Cup and providing physicians with surgical instructions.
Zimmer accused of failure to notify the public of risks with their hip device
The plaintiff's injuries, according to his filing, are a direct result of Zimmer's failure to notify the general public and the medical community of the risks associated with the device, or to issue a recall of the hip in question.
Doctors have been reporting a high failure rate with the devices. This prompted Zimmer to halt sales of the device in 2008. Just one month later, the implant was returned to the market with the company citing physician error, rather than a manufacturing defect, as the reason for the unusually high failure rate.
The plaintiff seeks general, punitive, and exemplary damages, in the amount to be determined at the time of trial.
[SmartLink zimmerhiplawsuit]