A New Lawsuit is Filed Against Pfizer for Zoloft Birth Defects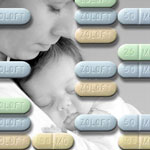 On August 23, 2012, Denise and Nicholas Ciccone filed a lawsuit on behalf of themselves and their minor daughter Noelle in the U.S. District Court in Pennsylvania. Noelle suffered birth defects after Denise Ciccone took the antidepressant drug Zoloft during pregnancy.
The Ciccone's Zoloft attorneys bring counts of negligence, design defect, failure to warn, fraud, misrepresentation and suppression. The couple seeks to recover the cost of Noelle's medical expenses and general and special damages, including punitive damages.
Studies show a link between SSRI antidepressants and birth defects
Zoloft, manufactured by Pfizer, is an SSRI antidepressant. The lawsuit cites numerous studies that show a link between SSRIs and birth defects, including:
• A 2007 study that found that babies whose mothers took SSRIs during pregnancy were more likely to be born with anencephaly (missing a piece of the brain or skull), craniosynostosis resulting from Zoloft (closed or fused bones in the skull), and omphalocele (intestines and liver outside the abdominal wall).
• A 2007 study that found double the risk of septal heart defects in babies whose mothers took Zoloft while pregnant.
• A 2010 study that found that women who took Zoloft during pregnancy had three times the risk of giving birth to a baby with cardiac malformation.
Despite this evidence, "the current Zoloft label still does not warn doctors or patients about the increased risk of cardiac malformations and other birth defects" when Zoloft is taken during pregnancy, the lawsuit notes, "Even in the face of the numerous published studies, Pfizer continues to deny these dangers and will not revise its drug labeling."
Plaintiff claims that if she was warned of the risks, she never would've taken Zoloft
According to the lawsuit, Denise Ciccone took Zoloft during her pregnancy as prescribed by her doctor. Noelle was born with birth defects including a right clubbed foot and truncus arteriosus (a congenital heart defect), on February 21, 2002 at West Penn Hospital.
The lawsuit states that if Denise Ciccone had been warned that taking the drug while pregnant could cause such devastating side effects resulting from Zoloft use—side effects her child is now forced to live with for the rest of her life—she never would have taken the drug.
Even before the FDA approved Zoloft, Pfizer knew the SSRI antidepressant could cause birth defects due to evidence from animal studies, the lawsuit claims. The lawsuit charges that by failing to warn consumers of these side effects of Zoloft, "Pfizer acted in a willful, wanton and outrageous manner and will evil disregard of the rights of the Plaintiffs."
[SmartLink zoloftlawsuit]