A Plaintiff Files Suit Against Zimmer For Failure Of Their NexGen CR Knee Implant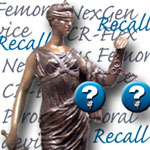 A Zimmer NexGen CR lawsuit was filed on January 12, 2012, by New Jersey resident Nathan Philephs and his wife, Margaret. Philephs claims that he suffered Zimmer knee complications and seeks compensation for his injuries.
When they filed, they adopted the master long-form complaint used in the current MDL against Zimmer. On August 9, 2012, they adopted the related short-form complaint, which will be combined with the long-form complaint to serve as an amended complaint.
A plaintiff's Zimmer NexGen CR implant fails and he files suit
On July 15, 2010, three days shy of his 41st birthday, Philephs was implanted with the NexGen CR-Flex device on his right knee. After his surgery, he claims he experienced complications including pain, suffering, loosening of the implant, and the need for further surgery. He underwent Zimmer knee replacement revision surgery to replace the allegedly defective NexGen device replaced. He claims that he has suffered economic losses in addition to his injuries and brings counts of design and manufacturing defect, failure to warn, negligence, breach of warranties, and unjust enrichment. He seeks compensatory and punitive damages. Margaret Philephs claims loss of consortium.
A non-peer reviewed report notes a high rate of complications with Zimmer CR-Flex knee
In March 2010, Dr. Richard Berger and colleague Dr. Craig Della Valle from the Rush University Medical Center presented the results of their non-peer reviewed report, "The High Failure Rate of a High-Flex Total Knee Arthroplasty Design," at a conference of the American Academy of Orthopedic Surgeons. They noted that within two years of implantation, 8.3 percent of CR-Flex implants they observed (out of a total of 108) had either required revision surgery or were scheduled for it because of pain and premature loosening. Another 36 percent of patients had loosening, showing the porous coating was not working.
A higher-than-normal rate of failures associated with the Flex line of knee implants
Philephs is one of many patients who have had to undergo knee revision surgery because of premature loosening and who have chosen to consult with Zimmer knee lawyers to file a case against the manufacturer. The implant was designed for younger patients like Philephs, and advertised as providing more flexibility and durability to match up with more active lifestyles.
Post-marketing reports, however, have indicated a higher-than-normal rate of failures associated with the Flex line of implants. Instead of being cemented to the bone, as are competitor products, the Zimmer CR-Flex was created to eliminate the risk of cement polluting nearby tissue, entering the bloodstream, or breaking down. Instead, designers added a porous liner that was designed to encourage bony ingrowth, which was supposed to secure the implant to the bone.
Unfortunately, in many cases, this new design innovation failed to perform as expected.
[SmartLink zimmerkneelawsuit]