Chantix Lawsuit Claims Drug Caused Plaintiff to Have Suicidal Thoughts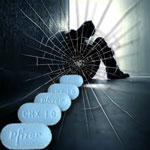 A lawsuit against drug company Pfizer  charges that the smoking cessation drug caused plaintiff Charles Quinn to experience psychological problems from Chantix, including suicidal thoughts. Quinn, a resident of Arizona, filed his lawsuit on July 27, 2012. His lawsuit was added to the Chantix MDL in the U.S. District Court, Northern District of Alabama.
Plaintiff took drug before black box warning added
Quinn's lawsuit states that he first took Chantix on May 21, 2009, two months before a black box warning of potential psychological side effects was added to the drug's label. At some point after he began taking Chantix, he allegedly began to experience suicidal thoughts and ideas and to exhibit aggressive behavior.
Quinn's lawsuit brings counts of design defect, failure to warn, breach of warranties, negligence, gross negligence, fraudulent misrepresentation and concealment, and unjust enrichment.
Chantix MDL consolidates thousands of lawsuits
The Chantix MDL was established by the Judicial Panel on Multidistrict Litigation in October 2009 to consolidate federal Chantix lawsuits. The MDL currently contains an estimated 2,600 Chantix lawsuits.The first bellwether trials in the MDL are scheduled for October 2012 and January 2013.
Pfizer recently put forth motions to the court requesting that the July 2009 black box warning be deemed adequate and that lawsuits alleging injuries caused by Chantix after July 2009 be summarily dismissed. The judge granted the motion deeming the warning adequate, but denied the motion for summary judgment, continuing to allow those allegedly injured by the drug after July 2009 to proceed with Chantix lawsuits.
The black box warning, which was ordered by the FDA, reads, "People who are taking Chantix or Zyban and experience any serious and unusual changes in mood or behavior or who feel like hurting themselves or someone else should stop taking the medicine and call their healthcare professional right away. Friends or family members who notice these changes in behavior in someone who is taking Chantix or Zyban for smoking cessation should tell the person their concerns and recommend that he or she stop taking the drug and call a healthcare professional right away."
Many Chantix lawsuits charge that Pfizer did not fully study the drug's risks before putting it on the market, alleging that patients with a history of depression or medical or psychological disorders were excluded from clinical trials of the drug. Since some smokers who use Chantix do have such a history, the study participants were not an accurate representation of likely Chantix users, many attorneys charge.
[SmartLink chantixlawsuit]