Lawsuit Filed Over Stryker Complaint Moved to Federal Court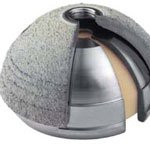 A lawsuit claiming that Stryker Corporation was negligent and did not adequately warn patients about the risks associated with its Trident hip replacement system was filed in the Superior Court of the State of Indiana for the County of Marion by plaintiff Darlene A. Gray. On the 5th of September, 2012, the suit was removed under federal diversity jurisdiction. The lawsuit claims that plaintiff Gray had the Trident hip system implanted after suffering from avascular necrosis of the right hip for a number of years, however, the device failed much earlier than what would be reasonably expected, she was forced to undergo Stryker revision surgery in order to correct complications she was experiencing as a result of her implant.
Recall issued over parts
Stryker issued a recall of two component hip parts related to their Trident hip replacement system in 2008, as a number of patients came forward with assertions of pain related to their Trident hip implants. In addition, squeaking and popping sounds and sensations were reported by a number of patients, which could be embarrassing as well as indicative of other complications associated with the products. Some patients reported even more serious complications, including implant failure and bone fractures. A number of these patients had to undergo revision surgery in order to correct them.
The plaintiff is seeking Stryker hip settlements based on damages associated with medical expenses and pain and suffering that she has experienced as a result of her use of the allegedly defective product. She is making claims of negligence and defective product claims against Stryker Orthopedics.
Lawsuits consolidated in New Jersey
A number of patients have chosen to go ahead with Stryker hip litigation after experiencing serious complications linked to the devices, and a consolidation of a number of lawsuits has taken place. Some lawsuits have been consolidated in the New Jersey Superior Court of Atlantic County and are being presided over by Judge Carol Higbee.
[SmartLink strykerhiplawsuit]