Louisiana Woman Claims Stryker Complications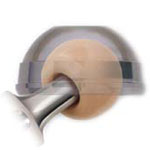 A Louisiana resident filed a lawsuit against Stryker Corporation in May of 2012, claiming that she experienced complications after she was implanted with the Stryker hip replacement device. The lawsuit, which was originally filed in the Civil District Court for the Parish of Orleans, was later removed to federal court in the Eastern District of Louisiana on June 25, 2012. The plaintiff, Joann Alcorn, enlisted the help of a personal injury lawyer after she experienced serious Stryker hip-related complications. She is hoping to hold Stryker Corporation responsible for damages in excess of $75,000.
Complications claimed by Stryker patient
Alcorn's complaint states that she underwent total hip replacement surgery on December 11, 2002. Her left hip was the affected joint. Her surgeon implanted the Stryker Trident Acetabular system at the time of the surgery, which is the same implant that was later the subject of a Stryker hip implant recall that took place in January of 2008. The plaintiff claims that, subsequent to her surgery, she began to experience complications including severe hip pain, a loss of range of motion, and difficulty with ambulation. She claims that the pain intensified when she made any movement while she was in an upright position, which led to her being unable to walk. Alcorn was later confined to a wheelchair.
Stryker Orthopedics implemented a recall of its Rejuvenate and ABG II hip replacement systems. Both of these devices are metal-on-metal devices, which means that grating of the metal could cause the shedding of tiny shards of cobalt into the joint and surrounding tissues. This can cause a condition known as metallosis, or metal poisoning. However, the Trident device was recalled for different reasons. The device, which is made of ceramic, caused squeaky joints, fractures, and overall implant failure, causing premature revision surgery.
Complications lead to lawsuits
Alcorn claims that she was forced to undergo two revision surgeries as a result of her use of the device, neither of which were successful. She says in her lawsuit, filed with the help of a Stryker hip recall lawyer, that she continues to suffer from chronic and serious hip pain to this day. The plaintiff is seeking compensation for her injuries from Stryker.
[SmartLink strykerhiplawsuit]