Plaintiff Claims DePuy Pinnacle Hip Metallosis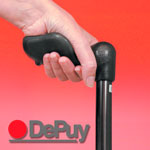 A Texas man has filed a lawsuit charging that he suffered metal poisoning after a DePuy hip implant. The plaintiff, Brucer Bernier, filed his complaint on August 31, 2012 in the Northern District of Texas.
Plaintiff not warned of Pinnacle risks
According to the lawsuit, Bernier underwent hip replacement surgery and was implanted with the Pinnacle hip in 2008. The Pinnacle model he was implanted with had an Ultamet/metal liner, which has been reported to cause metallosis in some patients. However, Bernier was not informed of this risk.
He subsequently developed metal poisoning and suffers pain and disability so severe that he cannot walk without a cane and always feels as though his hip will give out at any moment.  He is likely to need corrective surgery in future, the lawsuit states.
Bernier seeks punitive and exemplary damages in addition to compensation for economic and non-economic losses.
DePuy ASR hip recalled, but not Pinnacle
Metallosis was also a problem with DePuy's ASR hip model, which was recalled in 2010. The model had gotten many adverse event reports of implant loosening and metal poisoning. A multidistrict litigation has been established for lawsuits involving the ASR, and a class action suit is pending as well. However, there has been no announcement of a recall of the Pinnacle model as of yet.
Pinnacle fast-tracked to approval without rigorous safety testing
Bernier's DePuy lawsuit points out that the Pinnacle hip was approved in the early 2000s via the FDA's fast-track 510(k) process, which allowed a device to be approved without rigorous testing to prove it is safe if it can be shown that it is similar to another device that has already been approved. DePuy showed that the Pinnacle was similar to a hip model put out in 1976. However, the complaint states, because the Pinnacle was fast-tracked to approval without full safety testing, the danger of metallosis was not properly evaluated.
Metallosis occurs when metal parts of the replacement hip rub together, and the resulting friction causes metal particles to scrape off and be released into the patient's bloodstream, bone, or tissue. Bernier's complaint argues that with proper testing, this risk could have been identified before the Pinnacle was put on the market and implanted in unsuspecting patients.
[SmartLink depuyhiplawsuit]