Plaintiff Implanted With Two Zimmer Cups and Both Failed, Lawsuit Charges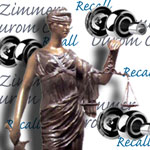 A man who was implanted with the Zimmer Durom Cup in both of his hips and allegedly suffered Zimmer hip complications from both implants has filed a lawsuit against Zimmer. The plaintiff, Morris Reynolds of Arkansas, filed his lawsuit on September 4, 2012 in the U.S. District Court, Eastern District of Arkansas.
According to his lawsuit, on January 26, 2007 Reynolds's underwent hip replacement surgery and was implanted with a Zimmer Durom Cup in his left hip. Later that same year, he underwent a second hip replacement on December 7, 2007 during which he was implanted with a Zimmer Durom Cup in his right hip. In both cases, the surgeons met or exceeded applicable standards of care, the lawsuit states.
Durom cup sales suspended seven months after plaintiff's second implant surgery
On July 22, 2008, about seven months after Reynolds' second implant surgery, Zimmer announced that it was suspending sales of the Durom Cup while it investigated reports of complications from the hip implants. After a month-long investigation, Zimmer issued a statement saying that it had found "no evidence of a defect in the materials, manufacturer or design of the implant." The company did not issue a recall of the Zimmer hip implant. Instead, it re-issued the Durom Cup with updated instructions for surgeons.
Plaintiff claims pain from implants
In his complaint, Reynolds alleges that around November of 2010 he began to suffer complications from his Durom Cups, including difficulty with both standing and walking, a stiff gait, and back pain. To this day, he continues to suffer pain and hip problems, and he will continue to require medical care and treatment for these problems in future, he says.
Reynolds' lawsuit brings counts of failure to warn, negligence, design and manufacturing defect, and breach of warranties, and his wife claims loss of consortium.
Many Zimmer hip lawsuits charge that the Durom Cup is problematic because instead of being cemented or screwed in place, it is designed to bond directly to the patient's bone, which is supposed to grow into the shell of the cup. However, in some cases the bone does not grow into the shell or adhere to it properly, which causes a loosening of the implant. In some cases, the cup may actually pop free of the hip. These complications have resulted in many  Zimmer hip lawsuits being filed against the company.
[SmartLink zimmerhiplawsuit]