Seven Yaz Plaintiffs in One Complaint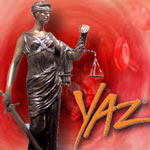 Cathy Young, Katasha Nesbitt, and five other plaintiffs filed suit on the 20th of August, 2012, against Bayer Pharmaceuticals. Each of these plaintiffs claims that she suffered blood clots from Yasmin or Yaz or other serious side effects of the popular birth control medication and is seeking compensation for her injuries from drug maker Bayer. The lawsuit was filed in the California Superior Court of Los Angeles, and Bayer Corporation et al. have been named as defendants in the case. They are seeking a jury trial or settlements that would help compensate for personal injuries and economic damages associated with the fourth-generation birth control's serious side effects. Click here for additional information on Yaz blood clots.
Hormone blamed for Yaz stroke
The plaintiffs claim that injuries they suffered are a result of their use of Yaz, Yasmin, and Ocella birth control pills, which all contain the fourth-generation hormone known as drospirenone. This hormone has been linked to increased levels of potassium in the bloodstream, which in return can cause problems associated with blood clotting, including strokes, deep vein thrombosis, and pulmonary embolism. Preliminary studies showed that this hormone might be "potentially more dangerous" than other, similar hormones that serve the same purpose, including ones that have been used since the 1970s in hormonal birth control.
The plaintiffs' claims include deep vein thrombosis, pulmonary embolism from Yaz, and related injuries. The plaintiffs began taking Yaz at varying times–some plaintiffs were diagnosed with their injuries as recently as August 2011, while others experienced theirs a decade before that. All women have something in common–they have suffered serious side effects from the medication, and they are seeking compensation for their injuries. They claim that Bayer "knew or should have known that the use of Yaz, Yasmin, and Ocella created an increased risk to consumers of serious personal injury, including heart attacks, deep vein thrombosis, pulmonary embolism, stroke, gallbladder conditions, seizures, and even death."
Settlements sought in lawsuit cases
Women across the country are joining Yaz litigation in an effort to receive compensation for the serious injuries they have suffered related to the popular birth control. They are seeking compensatory and punitive damages for economic losses, medical care and expenses, loss of earnings, physical pain, as well as loss of consortium.
[SmartLink yazlawsuit]