Stryker Hip Litigation Continues to Grow and Are Similar to Those Against Biomet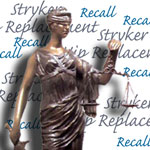 With around 180 complaints now coordinated in the New Jersey Supreme Court, the number of plaintiffs filing Stryker hip litigation continues to grow. The coordination of cases has yet to be classified as a mass tort, but it has provided centralization of similar cases to promote efficiency and speed in the legal process by preventing duplicate discovery. In March of 2009, centralization was assigned under the Honorable Judge Carol E. Higbee.
Metallosis is linked with metal-on-metal hip devices such as those made by Stryker
Complications such as erosion of the joint, loosening of the implant, and component deterioration have left some recipients of the device in pain and in need of revision surgery to repair the implant. Metallosis—also known as metal poisoning—occurs when small bits of metal shave off of the device and enter surrounding tissue and the bloodstream causing pain, swelling, and disability.
This problem has been linked with the metal-on-metal hip implant devices and includes some of the Stryker models.
In July 2012, a voluntary Stryker Rejuvenate implant recall was implemented for two of its models: the ABG II and the Stryker Rejuvenate Modular. This recall follows a 2008 of the Stryker Trident hip replacement. That device received complaints similar to those seen with the ABG II and Rejuvenate devices today.
A panel of judges will hear arguments regarding the coordination of lawsuits against Biomet M2A Magnum hip replacements
A panel of judges will be hearing arguments this month on the coordination of lawsuits involving Biomet M2A Magnum hip replacements. Currently, there are at least 40 complaints filed in courts throughout the United States with common allegations such as metal poisoning and loosened implants. These complaints are similar to those involving Stryker hip implants, which have formed the basis of a growing number of lawsuits in courts across the U.S. In these cases, the plaintiffs are represented by Stryker hip lawyers and are seeking compensation for their injuries.
A proposal by the plaintiffs to move the cases to the Northern District of California is opposed by the defendants
It remains to be seen whether a mass tort or multidistrict litigation (MDL) will ever be established for lawsuits against Stryker hip. A decision in the Biomet coordination could impact how courts view Stryker lawsuits in the future.
The original motion to coordinate Biomet hip litigation was first introduced by two plaintiffs, Leyda Ching and Dianne Winningham. The two have proposed centralization of cases to the U.S. District Court in the Northern District of California. Biomet opposes such coordination, but has stated that if consolidation is to move forward, the preferred location would be the Southern District of New York.
[SmartLink strykerhiplawsuit]