Stryker MDL Reaches 180 Lawsuits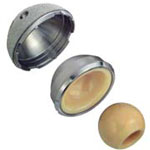 After the recall of Stryker's Trident hip replacement system components, which took place in January of 2008, a number of patients filed suit against the device manufacturer. On the 31st of March, 2009, the New Jersey Supreme Court centralized all pending and future cases involving these implants into one court in Atlantic City, not as a mass tort but simply as a consolidation meant to increase efficiency and reduce duplicative discovery in these cases.
Judge oversees growing lawsuits
Judge Carol E. Higbee has been assigned to manage the proceedings in the New Jersey court, and as of August 25, 2012, the number of lawsuits had grown to 180. Plaintiffs represented by their Stryker hip attorney are filing suit against the device manufacturer with claims that Stryker failed to adequately warn patients about the potential risks associated with the Trident hip replacement device, including Stryker hip replacement problems that can include inflammation and pain, bone fractures, squeaky joints, and even implant failures.
The company issued a Stryker Trident hip recall in 2008, after the Food and Drug Administration issued several warnings about the potential for complications related to the hip replacement device. The company was rebuked by the FDA in March and November of 2007 for failing to address and correct a number of issues associated with the Trident hip implant, including poor adherence to the bone, delimitation of the device's plasma-sprayed coating, and improper implant seating. These can result in bone wear, fracture, and a broken device.
Lawsuits consolidation simplifies litigation
Lawsuits were consolidated in Atlantic County on April 6, 2009, with the first case management conference being scheduled for May 21, 2009. The court had the master complaint form and initial discovery issues on the list for discussion during that conference. Patients who have filed lawsuits against Stryker Orthopedics are seeking compensation for the injuries they have endured, compensation which could cover injury-related costs such as medical bills, lost wages, and other financial burdens.
[SmartLink strykerhiplawsuit]