Widow Sues Takeda After Husband Dies of Actos Bladder Cancer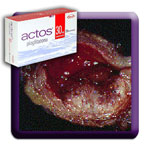 The widow of a man who died of bladder cancer from Actos has filed a lawsuit against Takeda Pharmaceuticals, maker of the diabetes drug. The plaintiff, Nancy Harber, filed her lawsuit Nancy Harber and Thomas Harber vs. Takeda Pharmaceuticals on August 10, 2012 in the U.S. District Court, Western District of Louisiana.
FDA warning came too late for plaintiff's husband
According to the lawsuit, Thomas Harber took Actos from 2000 until 2011, and died of bladder cancer on Oct. 25, 2011. That same year,  Actos was recalled in France and Germany because studies showed a link between the drug and bladder cancer. On June 15, 2011, just a few months before Thomas Harber's death, the FDA issued a warning that use of Actos for more than one year increased the risk of developing bladder cancer. Unfortunately for Thomas Harber, he had already been using Actos for more than 10 years when that warning was issued.
There has been no recall of the medication Actos in the U.S., but the FDA ordered the warning label to add the increased risk of bladder cancer in patients taking the drug for more than 12 months, and has told doctors not to prescribe it in patients who have a history of bladder cancer. The FDA's warning was issued after the agency evaluated the interim data at the five-year mark of an ongoing 10-year cohort study of 193,099 diabetes patients. The data showed that patients who took Actos for more than 12 months had a 40 percent increased risk of developing bladder cancer.
Actos MDL established
Following the FDA's warning, many lawsuits have been filed by Actos patients who developed bladder cancer, charging that Takeda knew of the drug's risks but failed to warn doctors or patients. On December 29, 2011, the Judicial Panel on Multidistrict Litigation established an Actos MDL in the U. S. District Court for the Western District of Louisiana under Judge Rebecca F. Doherty to consolidate federal lawsuits involving Actos. In addition, an Actos mass tort has been created in Illinois.
Actos (pioglitazone) was first put on the market in 1999 and is used to improve blood sugar levels in patients with type II diabetes. Actos is one of Takeda's top-selling drugs, with a reported $4.8 billion in worldwide sales in 2011, accounting for 27 percent of the company's revenues that year.
[SmartLink actoslawsuit]