Witness Testimony Allowed in Chantix MDL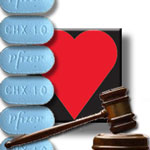 Drug maker Pfizer has filed a motion which was dismissed in the pretrial processes for pending litigation against them dealing with the smoking cessation drug Chantix. Pfizer tried to bar testimony of expert witnesses for the plaintiffs, a move which was rejected on August 21, 2012, by the federal judge; this means that experts can testify about the psychological risks like depression and suicide ideation that can occur while individuals are taking the smoking cessation medication which could lead to such serious psychological complications as Chantix suicide.
Chantix California lawsuits filed
Chantix injury settlement amounts demanded by each plaintiff are in excess of $75,000 in the consolidated litigation case. However, if lawsuits are successful, the amounts awarded to each plaintiff are likely to be significantly higher. The lawsuit of Saul Frazier v. Pfizer was first filed in the Superior Court of Los Angeles County, and was then transferred to the United States' District Court in the Central District of California. The consolidation is being presided over by Judge Inge P. Johnson.
The Food and Drug Administration approved Chantix for the purpose of smoking cessation in 2006. The medication works by reducing the pleasurable effects the brain experiences from smoking, which can make quitting easier for those who are addicted. Three years after the drug was approved, the FDA issued a requirement that a black box warning be added to Chantix packaging, which was intended to inform people about potential psychological problems associated with the medication.
Lawsuits seek settlements from Pfizer
Drug maker Pfizer is facing about 2,600 lawsuits filed on behalf of those patients who have been severely injured due to psychological problems. Some bereaved families have filed a Chantix lawsuit on behalf of patients who have committed suicide as a result of their use of the smoking cessation drug, claiming wrongful death and negligence on the part of Pfizer. All plaintiffs are seeking a settlement that will help cover injury-related costs like medical bills, lost wages, and other financial burdens associated with such severe psychological side effects.
[SmartLink chantixlawsuit]