Woman Needs Gallbladder Removed Due to Yaz Complications, Lawsuit Alleges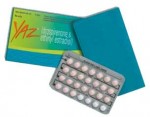 A woman who allegedly developed gallbladder disease from using the contraceptive Yaz filed a lawsuit against Bayer, the contraceptive's manufacturer, on August 21, 2012 in the Superior Court of Los Angeles County, California. According to the lawsuit, the plaintiff was forced to undergo a cholecystectomy (gallbladder removal surgery) on January 4, 2012.
Gallbladder disease can cause a patient extreme abdominal pain. After the gallbladder is removed, the patient may require lifelong medical monitoring and adherence to a restricted diet.
In her lawsuit, the plaintiff brings counts of negligence, product liabiity, breach of implied and express warranties, fraudulent concealment, and negligent misrepresentation. She is seeking compensation for Yaz injuries.
Case joins others in coordinated proceeding
The lawsuit has been joined with others in the coordinated Yaz proceeding in California state court. Other Yaz lawsuits have been consolidated on the federal level in a Yaz MDL in Southern Illinois, overseen by Chief Judge David R. Herndon, and on the state level in New Jersey in a multicounty litigation (formerly called a mass tort).
Yaz and Yasmin linked to numerous life-threatening side effects
Yaz was first put on the market in 2008 as a successor to Yasmin, which was introduced in 2001. Yaz and Yasmin both contain drospirenone, which has been linked to numerous serious side effects including blood clots, stroke, pulmonary embolism, deep vein thrombosis, heart attack, gallbladder disease, and death. In addition, a recent study published by the University of British Columbia found that women who take Yaz have increased risk of developing irritable bowel syndrome.
To date, Bayer has already paid out $402.6 million in settlements to more than 1,800 plaintiffs in Yaz litigation. But more than 10,000 Yaz cases are still pending in courts. Bayer has stated that it has set aside an additional $610.5 million to settle Yaz litigation, which would bring the total to more than $1 billion. However, some experts believe that by the time all the cases are settled, Bayer may end up paying as much as $2.5 billion in settlements.
Yaz has been a bestseller for Bayer, with sales of $374 million in 2010. In recent years, however, it has faced competition from generic versions put out by Teva Pharmaceutical Industries and Watson Pharmaceuticals, such as Ocella, which have cut into Yaz sales.
[SmartLink yazlawsuit]