Yaz MDL Grows Larger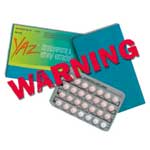 Multidistrict litigation surrounding the popular birth control Yaz and side effects thereof has reached a point at which it is larger than any other multidistrict litigation case taking place in the United States. The Institute for Safe Medicine Pradtices issued their "annual report issue" of QuarterWatch on May 31, 2012. The publication, which monitors all domestic, serious adverse drug events reported to the FDA, named Yaz/Yasmin as the product with the highest number of American lawsuits in 2011 than any other medication besides the heartburn drug Reglan. Yaz and Yasmin, which contain the fourth generation hormone drospirenone, have been linked with serious complications including Yaz blood clots.
Thousands of plaintiffs, represented by personal injury lawyers, have filed suit against drug maker Bayer, with the majority of these lawsuits proceeding in the Yaz multidistrict litigation case taking place in the Southern District of Illinois. This MDL is the largest of its kind in the country.
Over-promotion one key lawsuit citation
Many plaintiffs are accusing Bayer of over-promoting their product, glossing over side effects while exaggerating the beneficial effects of the medication. The Food and Drug Administration had to send warning letters to Bayer advising them not to over-promote the benefits of the drug, which they claimed to help treat acne and also ease particularly severe symptoms of PMS.
The Food and Drug Administration stated on April 10, 2012, that new warnings about the risk of blood clots should be required on the labels of birth control pills, such as Yaz and Yasmin, that contain drospirenone. This decision was made based on information from recent studies that showed the pills could be associated with an increased risk of blood clots and other similar, serious conditions. The labels report that some studies have shown as much as a three-fold increase in the risk of blood clots for such products.
Consolidation speeds litigation
A number of patients who have chosen to file a Yaz lawsuit have seen their case consolidated in multidistrict litigation. This move helps to speed up the litigation process, which can often otherwise be lengthy. The suits of other patients who are seeking compensation fof Yaz- and Yasmin-related injury are combined in MDL cases.
[SmartLink yazlawsuit]