A Class Action Lawsuit Against Stryker Hip is Filed in Massachusetts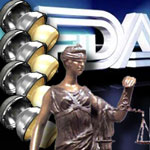 A class action lawsuit against Stryker was filed on September 12, 2012, by Raymond Chasse Jr., in the U.S. District Court for the District of Massachusetts due to complications with their Trident hip implant device.
Through his Stryker hip attorney, Chasse wishes to represent other recipients of the Trident hip device and suffered problems such as squeaking and popping along with extreme discomfort leading to revision surgery.
A voluntary recall is enacted by Stryker for the Trident Acetabular PSL Cups and Hemispherical Cups
A voluntary Stryker Trident hip recall was implemented by the company in January 2008. The devices in question for the recall were the Trident Acetabular PSL Cups and Hemispherical Cups. The company had been warned by the Food and Drug Administration (FDA) that complaints had been lodged alleging the devices had failed to function. Many complaints—from bone fracture, to popping and squeaking—were reported by recipients of the devices.
A number of product liability cases have been filed patients who were implanted with the devices. They claim that the recall came too late and that the devices were sold without adequate studies into the potential for problems with the device such as malfunctioning or side effects.
The difference between a class action and a multidistrict litigation (MDL)
A class action lawsuit is an action brought by a large group of people with similar issues and complaints. The plaintiffs is such a filing are banded together in a single lawsuit and heard as one case. An award, if any, will be shared among the litigants. In comparison, a mass tort or multidistrict litigation (MDL) is a lawsuit that separates the plaintiffs. A mass tort is designed to streamline the judicial process while maintaining the individuality of the plaintiffs and separating their awards depending on the person in question's case and complaints.
The Stryker class action lawsuit currently includes 40 Massachusetts residents who, since 2003, have received the Trident implant and experienced problems such as popping, squeaking, and discomfort to require the device to be replaced.
[SmartLink strykerhiplawsuit]