A Lawsuit Against Transvaginal Mesh Manufacturers is Transferred to the MDL in West Virginia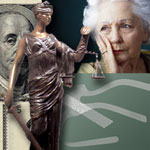 Patricia Latham's transvaginal mesh lawsuit was transferred from the Eastern District of Pennsylvania to multidistrict litigation (MDL) in the U.S. District Court for the Southern District of West Virginia on September 10, 2012.
According to Latham's attorney, the plaintiff suffered from serious injuries due to transvaginal mesh problems.
She names as defendants Ethicon, American Medical Systems, Gynecare, Johnson & Johnson, Endo Pharmaceuticals, Tissue Science Laboratories, Sofradim Production, and Boston Scientific. The defendants are charged with breach of express and implied warranties, negligent misrepresentation, defective manufacture, negligence per se, fraud, fraud by concealment, defective manufacture, failure to warn, and defective design. She requests reimbursement of legal fees, economic and punitive damages, and compensatory damages.
Mesh devices have a high rate of complications
According to the World Health Organization's Third International Consultation on Incontinence in 2004, mesh repairs had an unacceptable high rate of complications. These complications included:
• Sepsis
• Urination
• Chronic infection
• Mesh erosion and extrusion
The WHO—because of the poor ratio of risk vs reward of the devices—recommended that synthetic vaginal mesh products not be used before more clinical test trials could be completed.
A public safety communication was issued by the FDA in 2011 stating that an updated analysis of vaginal mesh problems and complications had revealed that the product held "continuing serious concern." The agency also stated that the complications were "not rare," and mentioned side effects such as vaginal shrinkage, neuromuscular problems, emotional problems as a result of the complications, and vaginal scarring.
The defendants are alleged to have acted in an unreasonable manner
Latham cites problems associated with a synthetic mesh device. One main allegation is that the defendants in the case acted in an unreasonable manner because they failed to properly discover the properties of their product and intentionally concealed and omitted information as to the product's safety.
In her lawsuit, it is stated that the "risk of adverse events with the medical device was higher than with other products and procedures available to treat incontinence or [pelvic organ prolapse]."
The plaintiff states that if she had known of the risks associated with the device, she never would have had the implant.
[SmartLink vaginalmeshlawsuit]