A New Case Joins the Illinois MDL Against Zimmer Knee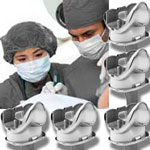 On September 4, 2012, a short form complaint prepared by Zimmer knee lawyers on behalf of plaintiff Diane Iannone was filed in the U.S. District Court, Eastern District of California (Sacramento) as part of the current multidistrict litigation (MDL) currently in progress in the Northern District of Illinois. Iannone's doctor recommended the Zimmer device.
The lawsuit against defendant Zimmer Orthopedic Surgical Products alleges that the products NexGen Legacy Posterior Stabilized Flex and NexGen MIS Tibia caused injuries and pain to the plaintiff.
A recall has yet to be implemented, but many lawsuits are coming forward alleging problems with the Zimmer devices
No recall has been implemented for the Zimmer NexGen device as of yet, but there have been many problems reported with the devices relevant in this case. In a recent case, a woman alleged that her Zimmer NexGen device failed and she required revision surgery. She is suing for nearly $100 million.
Iannone had the device implanted on January 29, 2007. Her lawsuit joins many other cases in the Illinois MDL complaining of injuries from Zimmer NexGen LPS and Zimmer NexGen CR. The MDL was formed when the U.S. Judicial Panel on Multidistrict Litigation responded to the growing number of complaints against Zimmer over several of their NexGen knee products.
An MDL is designed to streamline proceedings
An MDL is designed to promote efficiency, conserve judicial resources, expedite litigation and settlement procedures, allow the presiding judge to determine common answers to questions of law for all cases.
Plaintiffs in the MDL roundly complain of complications such as pain, tissue damage, swelling, the need for revision surgery, and other complications.
Iannone seeks to recover compensation due to breach of implied and express warranties, negligence, strict liability, and other charges. She alleges that Zimmer neglected to warn the consuming public regarding risks of Zimmer knee complications associated with the product and caused her injuries.
[SmartLink zimmerkneelawsuit]