A New Lawsuit Against Pradaxa Joins the MDL in Illinois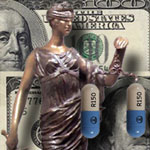 One of the new Pradaxa lawsuits filed in the Northern District of Mississippi on September 6, 2012, was transferred to the federal multidistrict litigation (MDL) in the Southern District of Illinois on September 21.
The Honorable Judge David R. Herndon is overseeing the case and is in the process of streamlining the procedures as the MDL grows. The first status conference was scheduled for October 3, 2012.
Pradaxa has no antidote for uncontrolled bleeding
The Food and Drug Administration (FDA) approved Pradaxa as a blood-thinning medication that was a more convenient alternative to another blood-thinner, Coumadin. Unlike Coumadin, however, Pradaxa doesn't have an antidote for bleeding should it occur during treatment. If a patient begins bleeding under Coumadin therapy, a dose of vitamin K stops the problem. With Pradaxa, there's no known way to stop it and this has led to death for some patients on the drug.
In spite of the side effects from Pradaxa, it has yet to be taken off the market in a recall.
The plaintiff was prescribed Pradaxa by his doctor and was later hospitalized with bleeding
In the complaint discussed above, the plaintiff Charles Upchurch states that he was unaware of the dangers of Pradaxa when he began taking it to treat atrial fibrillation on the advice of his doctor. Pradaxa is commonly used for this purpose and it is designed to lower the risk of stroke in patients who have been diagnosed as having this particular heart condition.
The lawsuit states that plaintiff Upchurch began taking the drug on May 17, 2011. In December of 2011, he was hospitalized with internal bleeding.
He survived the side effect, but others have not. At least 260 deaths have been reported due to Pradaxa as of November 2010.
Claiming to have suffered pain, suffering and high medical costs due to his hospitalization, Upchurch filed a lawsuit. The best option for those who are in a similar position as the plaintiff in this case is to consider filing a lawsuit against Pradaxa and its manufacturer Boehringer Ingelheim to seek compensation for their injuries.
[SmartLink pradaxalawsuit]