A New Lawsuit is Filed in Pennsylvania Alleging Pradaxa Bleeding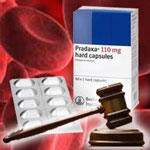 On September 10, 2012, a new lawsuit seeking compensation for Pradaxa injuries was filed against manufacturer Boehringer Ingelheim was filed in the U.S. District Court of Pennsylvania. In the filing, the plaintiff, 69-year-old Mary Ann Krszal claims that she was prescribed the anticoagulant Pradaxa (dabigatran) on January 11, 2011. One year later, she experienced weakness and lost consciousness. Taken to the hospital, she was found to have suffered severe blood loss from gastrointestinal bleeding.
There is no known medication to stop Pradaxa internal bleeding
A report from the Institute for Safe Medication Practices, whose findings were published in a June 2012 article in the Philadelphia Inquirer, states that the side effects from this drug caused more nonlethal hemorrhages, nonlethal strokes, and deaths than any other medication they studied for that report and more than seven times as many as another anticoagulant drug, Coumadin (warfarin).
Coumadin is a frequently prescribed anticoagulant for patients who are experiencing atrial fibrillation. It can also cause internal bleeding but, unlike Pradaxa, the bleeding can be stopped by giving a dosage of Vitamin K. Pradaxa has no known reversal agent to stop bleeding.
Plaintiff seeks $30 million from Pradaxa manufacturer Boehringer Ingelheim
An estimated one in ten patients using Pradaxa experience internal bleeding with the most lethal being uncontrolled bleeding. Pradaxa was approved by the FDA in 2010 after an expedited review process that took six months.
The plaintiff claims that Boehringer Ingelheim "willfully, wantonly, and with malice" withheld information regarding the risks of Pradaxa.. She requests compensation for manufacturing defect, fraud, breach of warranty, negligence, loss of consortium, and other issues. Through her lawyer, she requests $30 million in damages—$10 million in actual damages and $20 million in punitive—for suffering side effects of Pradaxa.
[SmartLink pradaxalawsuit]