A Texas Lawsuit Against DePuy Alleges Complications and Revision Surgery from the Pinnacle Hip Device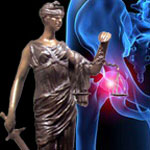 Sandra Allen, the plaintiff in a lawsuit filed by her DePuy hip attorney, alleges that she endured severe injuries, damage to her hip, and discomfort after being implanted with the Pinnacle hip device. Her lawsuit was filed in the U.S. District Court, Northern District of Texas, in March, but is moving slowly while the plaintiff and the defendants organize and gather information in the case.
There have been more than 1,300 reports of complications from the Pinnacle hip implant since 2002.
In a case against Pinnacle hip, it is pointed out that it was approved under an expedited process
In a typical case against Pinnacle hip, an attorney will refer to this particular device being one of a number of hip implant devices that have been approved by the Food and Drug Administration (FDA) through the 510(k) process of expedited approval procedures.
Any device receiving approval under 510(k) must show that the device is "substantially similar" to a device that is already available on the market. If the new device is approved under this rule, it isn't subje1cted to the rigorous testing standards required by the FDA to ensure the safety and effectiveness of a new product.
Complaints include metallosis, infection, pain and other problems
Complaints lodged against the device have included premature wear, metallosis, inflammation, infection, and allegations of pain. A recall of the device has not been sought by the defendants as of yet.
Allen states that the defendants—DePuy Orthopaedics, Johnson & Johnson, and other parties—negligently manufactured the Pinnacle acetabular hip system and sold it to the consuming public. They did so with the knowledge that the device has been linked to serious problems and many patients need to undergo revision surgeries to repair damage or remove the device entirely.
The plaintiff seeks damages for multiple counts after problems with her Pinnacle device
In her lawsuit, Allen alleges Pinnacle hip implant complications following the implantation of the device on June 6, 2002. By 2007, Allen had to undergo revision surgery to remove and replace her Pinnacle implant.
She continues to suffer disability, disfigurement, pain, and suffering to this day. She also states that had she known of the possible problems related to the device, she would not have had it implanted.
She seeks damages based on claims of negligent misrepresentation, fraud, negligence, products liability, among other counts.
[SmartLink depuyhiplawsuit]