Actos Use Declines Over Concerns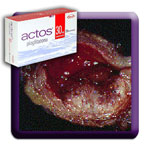 According to the Centers for Disease Control and Prevention, the prevalence of diagnosed diabetes increased by 176 percent between 1980 through 2010. As of 2010, about 25.8 million people were reported to have the condition, which can result in complications such as heart disease and stroke, high blood pressure, blindness, kidney disease, and nerve damage. Diabetes was listed as the underlying cause in over 70,000 deaths in 2007 and was recorder to have contributed to an additional 160,000 deaths. Because of the prevalence of the disease, diabetes treatment drugs are bound to be popular.
Actos and its concerns
Pharmaceutical companies are constantly researching new treatments that would help diabetics control their blood sugar levels and help to reduce their risk of complications. According to a leading research and advisory firm, Decision Resources, the type 2 diabetes drug market is set to nearly double in the next decade. However, certain drugs have been linked to a number of very serious side effects. Actos is one medication whose side effects are severe enough that they have been linked to a decline in sales.
The Food and Drug Administration approved Actos for the treatment of type II diabetes in 199. The medication can help lower blood glucose levels which can be extremely beneficial to patients with the condition. However, in recent years a number of patients have chosen to file Actos lawsuits because of side effects they experienced as a result of their use of the drug. A 2005 study published in the Lancet found that patients taking the medication had a higher risk of heart failure, and in 2007 the FDA required a black-box warning on Actos and related medications.
No Actos recall in the US
Although there has not been a recall in the United States, France initiated a recall of Actos in 2011 after it became clear that it could be linked to such serious side effects. Some experts are pushing for a recall in America, as well.
[SmartLink actoslawsuit]