An Ohio Woman's Lawsuit Against Zimmer Knee Joins the MDL in Illinois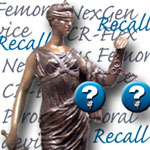 Through her Zimmer knee attorneys, Levette Adams of Ohio filed a lawsuit against Zimmer knee on June 19, 2012. That case was originally filed in the U.S. District Court for the Southern District of California, but was transferred to the Northern District of Illinois where the current multidistrict litigation (MDL) against Zimmer's NexGen device is located.
The NexGen was subject to a recall in 2010.
The plaintiff alleges multiple counts against Zimmer
Named as defendants in the case are Zimmer Orthopaedic Surgical Products, Inc., Zimmer Holdings, Inc., and Zimmer, Inc.
In her filing, she alleges multiple counts including: unjust enrichment, design defect, violation of consumer protection statutes, failure to warn, redhibition, manufacturing defect, breach of implied warranty, negligence, express warranty, and negligent misrepresentation. All counts relate to the device that Adams received—the Zimmer LPS-Flex—in 2007. Adams requests compensatory, punitive, and exemplary damages. Also, she lists applicable statutory damages, prejudgment interest, attorney's fees and costs, and any other relief that the Court deems fair and proper.
The plaintiff adopts the short form complaint making it easy to join the MDL
When she first filed her lawsuit for Zimmer knee problems, Adams adopted the short form complaint to join MDL No. 2272, alternatively known as as the Zimmer NexGen Knee Implants Products Liability Litigation.
Because she adopted the short form complaint, by reference, Adams incorporated the Plaintiff's Master Long Form Complaint that had been filed on January 12, 2012.
In addition, the short-form complaint allows plaintiffs to join the MDL via a sample and a short form in which checking off appropriate allegations and causes of action.
The plaintiff received her device in 2007 and required revision surgery in 2011
Adams received the Zimmer NexGen LPS-Flex device on her right knee in 2007. By November 2011, she required revision surgery at Grant's Hospital in Ohio. Her attorney indicates that she claims damages due to injury, and economic losses.
Further details will be revealed as the MDL proceedings move forward, but have not been revealed at this time.
[SmartLink zimmerkneelawsuit]