Connecticut Plaintiff Alleging Yaz Side Effects Sues Bayer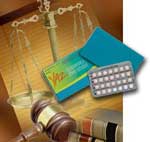 On September 14, 2012, a Yaz lawsuit originally filed on August 21, 2012, in the Superior Court of Connecticut, Waterbury County, was transferred to the U.S. District Court for the District of Connecticut. This change of venue was made at the request of the defendant because of their desire to designate this lawsuit as a tagalong case to the current Yaz and Yasmin federal multidistrict litigation (MDL) in Illinois.
In the filing, the plaintiff states that she suffered a pulmonary embolism and had fear of death due to the birth control medication manufactured by Bayer Corporation.
Deep vein thrombosis and pulmonary embolism are two alleged side effects from Yaz and Yasmin
Yaz and Yasmin are birth control pills manufactured by Bayer that are believed to be responsible for serious side effects in some of its users.
Side effects include deep vein thrombosis (DVT)—a condition in which blood clots after using Yaz develop in the legs. A study published in the British Medical Journal connected Bayer's birth control pills to a higher occurrence of DVT. These issues are very dangerous as the blood clots can break off and go to the lungs where a pulmonary embolism (PE) might result.
Signs of PE include pain in the chest, shortness of breath, rapid heartbeat and sweating. These were symptoms described by the plaintiff in the above case.
PE can be life threatening and if a user of Yaz or Yasmin is experiencing any of these problems, they should see their doctor immediately.
The lawsuit alleges multiple complaints including severe anxiety from fear after her pulmonary embolism
The plaintiff in this case, Jamie Maslar, states through her attorney that she was unaware of the risks involved with taking Yaz or Yasmin. She started the contraceptive in December of 2008 and continued treatment with the pill until March 31, 2011. It was then that she was diagnosed with PE.
The plaintiff alleges that she suffered from anxiety due to her fear, pain from her injury, financial losses that continue to date, and she required medical treatment for her pulmonary embolism.
Plaintiff Maslar has recovered from her pulmonary embolism, but she has accrued large debt due to medical expenses from her illness as well as lost wages. She seeks in excess of $15,000 for compensatory and punitive damages from the manufacturer, Bayer.
[SmartLink yazlawsuit]