Damage Allegedly Caused by Zimmer Durom Cup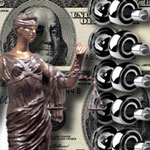 The Zimmer Durom Cup device is the subject of an ongoing multidistrict litigation case taking place in New Jersey, and a new plaintiff has added his lawsuit to the case. Christopher Wilson originally filed his Zimmer hip litigation in the United States' District Court for the District of New Mexico, but the lawsuit was transferred recently to federal court in New Jersey to join the MDL. The plaintiff is represented by a personal injury lawyer and is claiming that the Zimmer Durom Cup device is defective; he is seeking compensation that would help cover his medical expenses as well as pain and suffering caused by the failure of the device.
No recall for Zimmer hip
The Albuquerque, New Mexico resident claims that he was implanted with the Zimmer Durom Cup hip replacement system on November 8, 2007. About a year later, Zimmer briefly suspended the sales of the device, but quickly began selling the product again. The plaintiff claims that not long after he was first implanted with the device, he began to experience persistent pain and other symptoms. Although he went through extensive follow-up treatment and examinations in an attempt to address the issues, nothing seemed to help.
Wilson was also tested for metal ions, which revealed that he had unusually high levels of the metal cobalt in his system. This is a condition known as metallosis that can result from metal on metal joint replacement systems rubbing against themselves, which can release deposits of metal into a patient's bloodstream. Wilson's lawsuit claims that he had to undergo Zimmer hip revision surgery in order to deal with problems caused by his implant on March 22, 2011.
Zimmer hip lawyers can help
Patients who have experienced serious complications associated with their Zimmer hip replacement systems often choose to file suit against the device manufacturer. A personal injury lawyer can help with this process; filing a lawsuit can help win compensation that could cover damages.
[SmartLink zimmerhiplawsuit]