Eight Executives Testify in DePuy Hip Case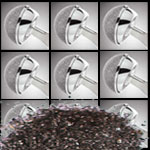 The Judicial Panel on Multidistrict Litigation established the ongoing DePuyhip MDL in the Northern DIstrict of Ohio, under the jurisdiction of Judge David A. Katz, who has been assigned to oversee the proceedings. Thousands of lawsuits are now consolidated in the ongoing case, with plaintiffs seeking settlements that would help mitigate their injury-related costs and costs associated with the pain and suffering they have experienced. Initial bellwether trials have been scheduled for May 6th and July 8th of 2013.
Executives set to testify
According to court documents, eight former and current executives at device manufacturer DePuy Orthopedics will be testifying in the coming months, providing information that will help the ongoing ASR hip lawsuits. This testimony will take place over the next two to three months and will include testimony from David Floyd, who was the United States' and worldwide president of the company at the time of the DePuy hip implant recall that took place in August of 2010, and current president Andrew Ekdahl. Also set to testify are professionals involved in the development, research, and marketing of the DePuy ASR hip replacement systems.
The multidistrict litigation case was first centralized in the United States' District Court for the Northern District of Ohio in 2010 with five motions pending against the device manufacturer. Today, over 6,000 plaintiffs have chosen to file a DePuy hip lawsuit in the multidistrict litigation case with the help of a personal injury lawyer. A telephone status conference dealing with the case took place on August 6, 2012, and the next status conference was scheduled to take place in Toledo on the 3rd of October, 2012.
Failure to warn likely to be cited
A patient who has suffered DePuy hip complications and chooses to file a lawsuit is likely to claim that DePuy failed to warn or failed to adequately warn them and other patients about the risks associated with their product. Hundreds of complaints were received by the company and the FDA about complications related to their hip replacement system after it was released onto the market in 2005, and the company admitted to a higher than expected failure rate when they recalled the device in August of 2010.
[SmartLink depuyhiplawsuit]