Failure and Revision Surgery Spurs a Lawsuit Against Zimmer for Their Durom Cup Hip Device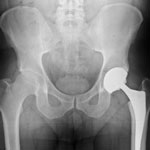 Through her Zimmer hip lawyers, resident of Louisiana Janis Adams filed a lawsuit against the hip replacement manufacturer. Filed on September 4, 2012, in the U.S. District Court for the Northern District of Indiana, the plaintiff claims that she suffered significant injuries after being implanted with the Zimmer Durom Cup.
Against the company, she brings counts of negligent misrepresentation, defective design, failure to warn, strict liability, negligence, and breach of warranties. In addition, the plaintiff's husband is filing a claim for loss of consortium due to the injuries sustained by his wife.
The device is intended to adhere to the patient's hipbone
The Zimmer Durom Cup is a different kind of implant in that rather than being screwed or cemented into place during its implantation, it is designed to adhere to the hipbone of the patient. With a porous outside of the cup, the device is sprayed with a substance that is highly engineered with the intention of enabling the human body to accept it. The intention is for the patient's bone to grow into the exterior shell of the cup which, in turn, will hold the cup in its place.
It is noted by patients and surgeons, the implant resists bone growth. It loosens from the hip and this can damage the pelvic bone. Zimmer hip complications include extreme pain and revision surgery to replace the device.
The Zimmer Durom Cup implant "spun around" when tapped four times during surgery for its removal
Plaintiff Adams received the hip on February 6, 2008. Following surgery, she experienced problems with standing, walking, and sitting, as well as intense pain. She attempted non-surgical measures to combat the pain she was having, but none worked. As a result, on September 3, 2010, she saw a different orthopedic surgeon who took X-rays and found "radiolucent gaps" in zones around the implant.
On March 23, 2011, she has revision surgery to replace the Zimmer implant. During the surgery, the surgeon said the cup "spun around" following four light blows on the medial portion of the acetabular component in the Zimmer Durom Cup.
The lawsuit states that there was "failure of bony integration and failure of fixation" of the cup. This caused the pain on the part of the patient.
Plaintiff claims no warnings as to the risks were provided by Zimmer
The plaintiff states in her filing that she received no warnings from Zimmer regarding the potential risks such as loosening with the hip device. The device has been in question regarding its safety and functionality for awhile. In 2008, sales of the device were temporarily suspended in order to investigate reports of issues with it. After seeing no evidence to justify a recall of the device, it was back on the market a month later, this time with updated surgical instructions for doctors and patients.
[SmartLink zimmerhiplawsuit]