Illinois Lawsuit Claims Actos Drug Maker Failed to Warn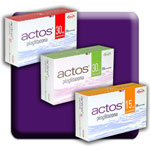 Doyle Swafford filed a lawsuit against the manufacturer of the type II diabetes drug Actos on the 10th of September, 2012, in the Circuit Court of Cook County, Illinois. The plaintiff claims that there is a link between use of the medication and the development of bladder cancer, which is one of several recognized side effects of the medication. Drug maker Takeda Pharmaceuticals, et. al. and Eli Lilly & Company are named as defendants in this lawsuit.
Lawsuit claims no warning of cancer risk
Actos was first approved for use on the markets by the Food and Drug Administration in 1999, when the federal agency approved the medication for the management of symptoms associated with type II diabetes mellitus. Swafford's lawsuit claims that Takeda and Eli Lilly were aware of the link between Actos and an increased risk of bladder cancer before the medication was even released onto the market, and yet they did not adequately warn patients about these risks. He has joined Actos litigation in an effort to receive compensation for his injuries, which he claims have caused him a great deal of pain and difficulty.
Evidence mounted between the drug's approval and 2005 also linked the medication to a heightened risk of bladder cancer, but the manufacturers allegedly did nothing to warn the public of this risk; the results of a three year PROactive study were published in 2005, which revealed "statistically significant" evidence that linked Actos to an increased risk of bladder cancer. Takeda and Lilly still did nothing. Swafford's lawsuit claims that the drug makers were negligent, stating that the defendants named in his case "willfully, wantonly, and with malice withheld the knowledge of increased risk of cancer…to prevent any chances of the products' registrations being delayed or rejected by the FDA."
Plaintiff suffers permanent side effects
The plaintiff claims that he has suffered severe pain, permanent and life-threatening personal injuries, emotional distress and mental suffering, lifelong fear of premature death, and the need for continued lifelong treatment and medications; he claims to still be suffering from the side effects of Actos. He is seeking compensation that could help mitigate the costs of his injuries.
[SmartLink actoslawsuit]