Iowa Man Claims Failure to Warn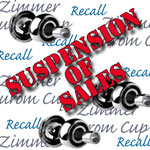 An Iowa man is among the more recent plaintiffs to have filed suit against Zimmer Orthopedics, as his lawsuit was filed in the Superior Court of the State of California, Los Angeles on September 13, 2012. He claims that he experienced complications associated with the Zimmer Durom Cup hip replacement device, and says that the serious side effects and complications he experienced as a result caused him to need to undergo revision surgery in order to remove and replace the implant thereby fixing problems associated with the device.
Device temporarily pulled from market
The Zimmer Durom Cup device was temporarily withdrawn from the orthopedics market in July of 2008 amid complaints of complications associated with the product. However, despite this suspension of sales, a Zimmer hip implant recall has not taken place. After it was recalled, the Durom Cup was re-released onto the market with updated instructions for surgeons but no other real changes to the device.
Plaintiff Donald Phillips claims in his lawsuit that the surgeons that implanted his Durom Cup device did so using the training and instructions provided by the defendants, Zimmer Orthopedics, and yet the device still failed. The plaintiff states that after he was implanted with the device, his surgical wounds healed well and without infection, and x-rays taken after the surgery showed that the hip replacement device was properly positioned and affixed with no unexpected impacts suffered by the device. However, he claims that he experienced pain and extreme weakness in his hip and in other areas.
Failure to warn claimed in lawsuit
Phillips claims that the defendants were aware of a high rate of complications from Zimmer hip devices, including the Durom Cup, but did not adequately warn patients about this risk in the interest of continuing to make sales of the device. He and other plaintiffs are seeking compensation for the injuries they claim to have suffered as a result of their hip replacement implants.
[SmartLink zimmerhiplawsuit]