New Jersey Man Claims Pradaxa Internal Bleeding in California Lawsuit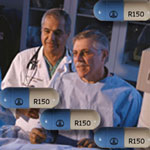 Attorneys for plaintiff John Fontana, a resident of New Jersey, filed a lawsuit against Pradaxa manufacturer Boehringer Ingelheim on September 13, 2012 in the U.S. District Court for the Northern District of California. As with most other Pradaxa lawsuits, Fontana's complaint states that he suffered life-threatening bleeding after using the anticoagulant, and that Boehringer Ingelheim did not adequately warn the public of the drug's dangerous side effects.
High rates of bleeding in Pradaxa patients
Pradaxa ((dabigatran etexilate mesylate) was approved by the FDA in 2010 as a blood-thinner to help prevent blood clots and strokes in patients with non-valvular atrial fibrillation. But the drug has turned out to carry serious and life-threatening risks. While all blood-thinners carry some risk of bleeding, the risk is exceptionally high for Pradaxa: approximately 10% of Pradaxa users report bleeding, and that figure does not include patients who may experience very mild bleeding but not bother to report it.
In addition, according to an article in the June 2012 issue of the Philadelphia Inquirer, a 2011 study of adverse event reports by the Institute for Safe Medicine Practices found that Pradaxa had the highest number of deaths, non-lethal strokes, and non-lethal hemorrhages than any other drug in the study. Notably, Pradaxa had more than seven times as many adverse event reports as its competitor, the anticoagulant Coumadin (warfarin).
Not only does Pradaxa have higher rates of adverse events than Coumadin, but even more alarmingly, there is no known antidote for internal bleeding after Pradaxa use. In contrast, patients who suffer bleeding from Coumadin can stop the bleeding simply by taking a dose of Vitamin K.
Manufacturer aggressively marketed Pradaxa despite dangers
After Pradaxa was approved in 2010, Boehringer Ingelheim spent close to $70 million marketing the drug in the last months of 2010, and an additional $464 million marketing it in 2011, touting Pradaxa as much more convenient than Coumadin because it does not require users to adhere to a restricted diet or frequently monitor blood levels, as Coumadin does. The marketing campaigns did not, however, reveal the high rates of dangerous bleeding that have subsequently been linked to Pradaxa, nor the fact that such bleeding has no ready antidote.
[SmartLink pradaxalawsuit]