New Knee Implant Lawsuit Added to Zimmer NexGen MDL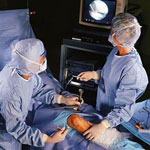 The Zimmer NexGen multidistrict litigation added a new Zimmer knee replacement lawsuit with the case of David M. Arney and Linda S. Arney of California. The Arneys filed the short form complaint on September 18, 2012 in the U.S. District Court for the Southern District of New York, where the MDL is being handled. The purpose of the MDL is to make the litigation process more efficient and speedy by consolidating cases involving the Zimmer NexGen implants, combining pretrial proceedings and discovery, and avoiding the potential for conflicting rulings.
Plaintiff allegedly required revision surgery due to NexGen complications
According to the the lawsuit, David Arney had surgery on August 23, 2010, during which he received a Zimmer NexGen knee implant in his right knee. Subsequently, he experienced pain which did not subside, and eventually he had to undergo revision surgery on August 1, 2011 to repair the alleged Zimmer knee failure.
Because of his injuries allegedly due to the Zimmer knee, David Arney has suffered personal economic loss as well as physical pain and suffering, loosening of the implant, and the need for additional corrective surgery, the lawsuit claims.
The Arneys' lawsuit brings counts of design defect, manufacturing defect, failure to warn, negligence, breach of express and implied warranties, unjust enrichment, and loss of consortium. They are seeking compensatory damages, punitive or exemplary damages, all applicable statutory damages, legal fees, and any further relief that the Court deems just and proper, and ask for a trial by jury.
Zimmer touted NexGen as superior, despite high failure rates, MDL charges
The master long form complaint of the MDL charges that Zimmer aggressively marketed its NexGen implants as superior because of the devices supposed "enhanced" capabilities, "minimally invasive" procedures, and designs that were specific to each gender, thereby ensuring a better fit, shorter hospital stays, and greater movement that existing models.
Instead, the lawsuit claims, "these enhanced replacement knees did not deliver on any of theses promises. Worse, the 'flex' design resulted in significantly high failure rates than their standard knee counterparts."
By 2010, the lawsuit states, peer-reviewed medical literature was finding cause for concern in the NexGen models, and the NexGen devices had higher-than-expected failure rates and high numbers of complications.
[SmartLink zimmerkneelawsuit]