Plaintiff Hospitalized For 10 Days Due to Pradaxa Internal Bleeding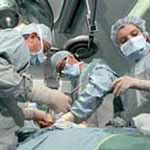 In a lawsuit recently added to the Pradaxa multidistrict litigation, plaintiff John Colletta of Illinois states that after taking the anticoagulant drug for less than six months, he suffered an episode of Pradaxa internal bleeding that resulted in his being hospitalized for 10 days.
The lawsuit was originally filed on August 27, 2012 in the Northern District of Illinois, but was transferred to the United States District Court, Southern District of Illinois, where it joined the Pradaxa MDL.
The purpose of the MDL is to consolidate lawsuits involving Pradaxa and streamline the judicial process by combining pretrial proceedings and discovery, as well as to decide questions of law common to all of the lawsuits and avoid inconsistent or conflicting rulings. There are currently about 80 lawsuits in the Pradaxa MDL, which is being overseen by Judge David R. Herndon.
Plaintiff would not have taken drug had he known of the risks, lawsuit states
According to his lawsuit, Colletta was prescribed Pradaxa by his physician and began taking the drug on October 27, 2011. Less than six months later, on March 11, 2012, he suffered internal bleeding which caused him to spend 10 days in the hospital. Colletta says that he would not have taken Pradaxa had he been informed of the drug's risks.
Colletta's lawsuit brings counts of negligence, product liability and personal injury.
Hundreds of deaths from Pradaxa bleeding reported to FDA
Colletta is one of many people who have chosen to file a Pradaxa lawsuit against the drug's manufacturer, Boehringer Ingelheim Pharmaceuticals, after suffering Pradaxa internal bleeding. According to FDA reports, there have been thousands of adverse events reported with Pradaxa, including more than 500 deaths linked to Pradaxa internal bleeding.
Pradaxa was approved in 2010 as an anticoagulant to help prevent blood clots and strokes in patients with atrial fibrillation. It was marketed as a convenient alternative to Coumadin (warfarin), because it does not require patients to adhere to a restricted diet or frequently monitor their blood levels, and warfarin does. But bleeding caused by warfarin can be reversed by administering Vitamin K, whereas Pradaxa internal bleeding has no known antidote.
[SmartLink pradaxalawsuit]