Stryker Trident Hip Recall Affects Thousands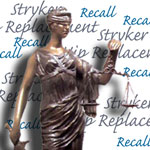 The Trident hip replacement system was once the most popular hip system sold by orthopedics manufacturing company Stryker, but this has changed since numerous patients complained of serious complications associated with their hip replacement devices, including squeaky joints, inflammation, and implant failure. The Food and Drug Administration also found safety violations associated with the devices, including the potentially fatal Staph bacteria, in two of the manufacturing plants owned and run by the company; these issues caused a Stryker Trident hip recall in 2007, which in turn affected thousands of patients who had received the hip replacement systems.
Concerns with Stryker implant enumerated
The Food and Drug Administration began receiving complaints about the Stryker Trident hip replacement system in 2005, including reports of squeaky hip joints, implant failure associated with broken component parts, corrosion, and uneven wearing on the bone, bone fractures, pain and inflammation of the hip joint, and contamination of the manufacturing plant. In 2007, a Stryker Trident hip recall took place, alerting thousands of plaintiffs to the possibility that their implants were seriously defective and potentially dangerous.
The Food and Drug Administration started to investigate the Trident Acetabular hip system because of the large number of consumer complaints they were receiving about the device. The Administration issued its first warning to Stryker in a letter addressing concerns about its Irish manufacturing facility sent on the 15th of March, 2007. On November 28, 2007, Stryker received its second warning letter, this time about the Stryker plant in New Jersey. The New Jersey plant had been inspected and investigators had found clusters of the Staph bacteria, which can cause a potentially fatal infection, in the factory.
Stryker issues recall
Since Stryker issued their recall in 2007, a number of patients have chosen to consult a Stryker hip attorney and file suit against the orthopedics manufacturing company. This course of action is a good choice for many patients because a lawsuit could mean compensation for injuries they have suffered as a result of their use of the device. This compensation could help cover injury-related costs they might have incurred.
[SmartLink strykerhiplawsuit]