California Plaintiff Claims Metallosis From DePuy Hip Implant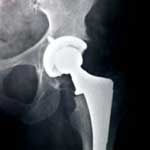 A DePuy hip lawyer filed a new lawsuit on behalf of plaintiff Bruce Pearn against the hip replacement manufacturer on October 19, 2012, in the Superior Court of Los Angeles County. The plaintiff received the DePuy ASR hip system in 2008 and had suffered from multiple problems by 2012.
Named as defendants in the filing are DePuy Orthopedics, Johnson & Johnson, and related parties. The plaintiff claims that DePuy should have been aware of the dangers of the ASR and warned doctors and patients of the dangers, but they failed to do so.
Over 300 people reported injuries from DePuy ASR by 2008
Many complaints have been lodged due to problems with the DePuy hip implants. A recall of the ASR systems was implemented in August of 2010 amid a growing number of complaints. The ASR hip implant systems were first approved by the FDA in 2005, but by 2008, over 300 people had reported injuries because of the devices.
In spite of these reports, DePuy failed to warn people of the risks of the devices.
The plaintiff names nine causes of action including: strict product liability, breach of implied and express warranties, and fraudulent concealment. He sustained his injuries in 2012, but never suspected the device was the issue because he trusted the manufacturer and distributor. The lawsuit claims that the companies misrepresented the risk of device failure to the public.
Plaintiff experienced multiple injuries from his DePuy device
Pearn states that he suffers from DePuy metal poisoning, also known as metallosis, due to the increased cobalt and ion levels in his blood. His mobility has been hindered and he has experienced emotional distress because of the complications with the implant.
Pearn believes that the DePuy ASR has created metallic debris or loosened from his acetabulum. He also believes that it detached and disconnected, causing the injuries he endures to date.
[SmartLink depuyhiplawsuit]