Chantix Lawsuit Settled Before Trial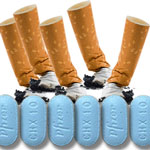 A Chantix litigation filed by the family of a man who committed suicide after using the smoking cessation medication was settled prior to trial. Mark Whitely's family sued the manufacturer of Chantix, Pfizer, Inc., after he committed suicide in 2007. According to the filing, Whitely did not have any history of depression prior to taking Chantix. Whitely's relatives state that the company failed to warn him of the possibility of potential side effects.
This was the first case in the mass litigation set to go to trial on October 22, 2012, but days before it began, Pfizer and the family agreed to settle the case and avert the first trial.
Chantix connected to depression, suicide and aggression
The mass litigation was created to streamline the process of all complaints alleging negative emotional and psychological side effects of individuals after using the medication Chantix.
Chantix has been connected to psychological problems such as depression, suicide, and aggressive behaviors. The Food and Drug Administration (FDA) received approximately 300 reports of side effects resulting from Chantix use such as depression and suicide during an 18 month period. In 2009, the FDA instructed Pfizer to place a black box label on the Chantix package to warn users of the medication about the side effects. Even with the warning, suicide is still a serious risk for users of the drug.
Pfizer sought to delay the mass litigation, but was denied
Pfizer has tried to give themselves more time before trial by arguing that they need to examine and analyze clinical studies of Chantix and its alleged problems. Judge Inge Johnson is overseeing the lawsuits against the manufacturer and denied the company's request because the studies are scheduled to go on for the next five years.
This was not the first time that Pfizer sought a delay. A motion was filed to postpone the proceedings on October 16, but the request was denied by Judge Johnson. Judge Johnson told a jury in September that they were allowed to consider making punitive damage awards to plaintiffs. These are usually provided as punishment for their failures or to prevent other companies from behaving similarly.
First bellwether Chantix trial scheduled for January 2013
Regardless of Pfizer's attempts, the trials are going to start soon. The next trial date is scheduled to begin in January of 2013 and is considered a bellwether trial in the mass litigation. Bellwether trials are important because they give plaintiffs an idea as to how juries will react to the evidence presented in a particular case. Aside from the Whitelys, there have yet to be settlements with any of the 40 other plaintiffs.
[SmartLink chantixlawsuit]