Georgia Lawsuit Alleges GranuFlo Death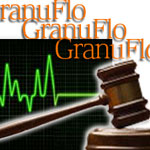 On September 14, 2012, a GranuFlo litigation was filed against Fresenius, the manufacturer of GranuFlo and NaturaLyte. The case alleges wrongful death of a woman who died after having a cardiovascular event following a hemodialysis treatment that used GranuFlo. Her next of kin brought the lawsuit on her behalf in the U.S. District Court for the Southern District of Georgia.
Plaintiff unexpectedly died after hemodialysis using GranuFlo
The plaintiff required hemodialysis to clean her blood due to kidney failure. According to the complaint, the plaintiff was receiving GranuFlo and NaturaLyte during her hemodialysis treatment for her kidney failure and unexpectedly died in September of 2010.
Others have experienced the same fate as the woman in this case. The FDA has been investigating Fresenius after information regarding the dangers of the liquid substance GranuFlo and the powder substance NaturaLyte came to their attention.
941 people allegedly suffered cardiac arrest after using Fresenius products
Approximately one-third of the hemodialysis patients in the United States are treated by Fresenius Medical Care. As a result, an unknown number of people—possibly hundreds of thousands—might have been at risk due to these products.
The danger from GranuFlo and NaturaLyte is the higher levels of a substance in the products that converts to bicarbonate far more than other products used for the same purpose. In addition, doctors were providing too high a dosage for human consumption. As a result, this caused levels of bicarbonate to allegedly cause cardiac arrest in at least 941 people.
The FDA implements a Class I recall of GranuFlo and NaturaLyte
The New York Times reported a story earlier this year that detailed Fresenius's knowledge of the cardiac problems and adverse side effects from using GranuFlo and NaturaLyte that were six times more frequent than patients given other dialysis substances. The company, however, waited four months before informing non-Fresenius clinics as to the dangers and only did so after the FDA intervened.
Shortly thereafter, the FDA issued a Class I recall due to the problems with the substances. This is the highest level recall that the FDA can implement.
Other plaintiffs consider filing a lawsuit alleging side effects from GranuFlo and NaturaLyte
The case in question lodges 13 claims including wrongful death, strict liability, and negligence. As information about these issues became more prevalent, other individuals injured by Fresenius's products have also considered filing a claim to recover damages. In order to file a case, they are contacting a qualified attorney to discuss their potential case.
[SmartLink granuflolawsuit]