Kentucky Woman Joins Illinois Actos Litigation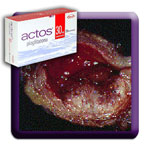 Yvonne McKinney filed a lawsuit individually and on the behalf of her deceased husband, Jack McKinney, in the Circuit Court of Cook County, Illinois on November 6, 2011. This court is one in which several Actos lawsuits have been consolidated. She filed her lawsuit against Takeda Pharmaceuticals, the drug manufacturing company responsible for the manufacture and distribution of the popular type II diabetes drug Actos. Her lawyer claims that the drug maker defectively designed the medication, which allegedly caused the premature death of the plaintiff's husband. Her lawsuit says that he developed bladder cancer from his use of the medication.
Takeda concealed risks, suit claims
The complaint states that defendant Takeda knew of the increased risks associated with their medication ad bladder cancer, based on the results of a PROactive study completed in 2005, but chose not to share this information with thousands of patients taking the medication and with the medical community as a whole. As a result, physicians nationwide continued to prescribe the medication to their patients, unaware of the risks.
According to plaintiff McKinney's lawsuit, her husband Jack McKinney began to take Actos in order to help stabilize the levels of glucose in his blood in August of 2007. He was diagnosed with bladder cancer in September 2009 and died on November 18, 2009, with metastatic bladder cancer the immediate cause of his death.
FDA warns of cancer link
The Food and Drug Administration issued a safety communication in 2011, which stated as follows: "Use of the diabetes medication Actos (pioglitazone) for more than one year may be associated with an increased risk of bladder cancer." Some studies have shown that a patient's risk of developing the cancer is increased as much as 40 percent with use of the drug. German and French markets have pulled Actos, but there has not been a recall of Actos in the United States.
Plaintiff McKinney is leveling multiple counts against Takeda, including negligent design, failure to warn, negligent misrepresentation, and loss of consortium. She is seeking multiple damages and any other relief to which the court deems proper.
[SmartLink actoslawsuit]