Lawsuit Claims Chantix Led to Depression and a Suicide Attempt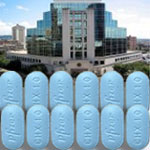 On September 28, 2012, Ruthie Durham filed a lawsuit due to side effects of Chantix via short-form complaint in the U.S. District Court for the Northern District of Alabama. The plaintiff alleges that she suffered from side effects including depression, suicide ideation, and a suicide attempt.
Durham joins a multidistrict litigation (MDL) against the manufacturer of Chantix, Pfizer, in which numerous plaintiffs are seeking compensation for the issues they had after taking the anti-smoking medication.
Chantix reported to cause aggression, depression, and suicide ideation
Chantix was created to help people with nicotine addiction to quit smoking. Following its approval by the FDA and the drug's release onto the market, complaints of aggression, depression, thoughts of suicide, and other mental problems were alleged. The majority of the people who experienced the listed side effects stated that they never had these mental issues prior to taking Chantix. As a result, many have chosen to hire a Chantix attorney to seek compensation from Pfizer.
Over an 18 month period, more than 300 reports of mental problems after taking Chantix were reported to the FDA. As a result, the agency required a black box warning to be placed on the package to warn consumers of the potential of these problems.
The number of cases alleging Chantix side effects leads to an MDL
Families of users of Chantix have filed wrongful death lawsuits against Pfizer and other drug company defendants after their family member committed suicide. One such case had been scheduled to go to trial on October 22, 2012, but was settled before it began. The amounts of the settlements are expected to be high considering the seriousness of the allegations.
As the number of lawsuits has grown, the U.S. Judicial Panel on Multidistrict Litigation assigned the cases to a multidistrict litigation proceeding. The point of the MDL is to speed the litigation process by eliminating redundancies and allowing the judge to respond to questions of fact that are common to all suits. It is meant to benefit both plaintiffs and defendants by streamlining the process.
Plaintiff makes multiple claims in her Chantix lawsuit
In February 2008, plaintiff Dunham began taking Chantix after it was prescribed by her doctor to help her quit smoking. After her mental problems, she contacted an attorney and filed suit. Her complaints include: breach of implied and express warranties, fraudulent misrepresentation, strict liability, and negligence.
[SmartLink chantixlawsuit]