Montana Plaintiff Claims Actos Bladder Cancer Side Effect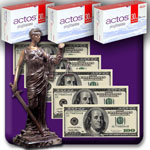 A Montana man has joined litigation against Takeda Pharmaceuticals, the manufacturer of the type II diabetes drug Actos. Robert Grimaldi filed his lawsuit in the Circuit Court of Cook County, Illinois, on the 26th of October, 2012. He is naming Takeda Pharmaceuticals America, Inc., Takeda Pharmaceuticals U.S.A., Inc., Takeda Pharmaceuticals North America, Inc., and Takeda Pharmaceutical Company Limited as defendants in his lawsuit. He claims that the manufacturers did not warn patients adequately about the potential side effects of their medication and, as a result, the plaintiff now suffers from bladder cancer.
Takeda allegedly withheld knowledge
Actos was first approved by the Food and Drug Administration in 1999 for the treatment of type II diabetes. According to the lawsuit filed by plaintiff Grimaldi, since that time a number of studies have linked Actos and bladder cancer, especially when it is used for 12 months or longer by patients. His lawsuit claims that Takeda "willfully, wantonly, and with malice" withheld its knowledge of the increased risk of bladder cancer from patients in the interest of continuing to manufacture and market Actos.
The Food and Drug Administration issued a safety announcement in June of 2011 regarding the potential risk of bladder cancer associated with Actos use of more than a year. The agency ordered Takeda to add bladder cancer to the warning label of the drug at this time.
Plaintiff seeks compensation for side effects
Grimaldi's lawsuit states that he began taking Actos in 2003 for the treatment of type II diabetes. He was diagnosed with bladder cancer in 2012, allegedly as a direct result of his use of Actos. He is now seeking compensation for the permanent and serious injuries he has suffered with the help of Actos lawyers. He is requesting compensatory and punitive damages that would compensate for pain and suffering, medical expenses, lost income, and disability.
[SmartLink actoslawsuit]