New Short Form Complaint Added to Illinois MDL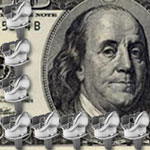 A new complaint has been added to the ongoing multidistrict litigation case taking place in Illinois by a Zimmer knee lawyer. The plaintiff, Howard Belt, filed his lawsuit initially in the United States' District Court for the District of New Jersey on September 19, 2012. The lawsuit was then transferred to the federal MDL, which is taking place in the United States' District Court for the Northern District of Illinois, on October 15th. The lawsuit was filed in a short form complaint, meaning it was incorporated into the Plaintiff's Master Long Form Complaint, which was filed in the MDL on January 12, 2012.
Zimmer knee failure documented in suit
The plaintiff claims that he first underwent knee implant surgery on the 11th of December, 2007. At this time, he was implanted with the Zimmer NexGen CR-Flex and the Zimmer NexGen MIS Tibia devices, both of which have come under scrutiny because of the high number of patients reporting complications associated with these devices. A higher number of patients than normal have experienced complications such as loosening of the implant and metal poisoning associated with the Zimmer NexGen knee replacement systems, and a number of Zimmer components, including the MIS Tibia, have become the subject of a Class II recall initiated by the Food and Drug Administration.
Plaintiff Belt claims in his Zimmer knee lawsuit that after experiencing multiple complications associated with his knee replacement device, he was forced to undergo revision surgery in February, 2011. This is considered a risky surgical procedure intended to remove and replace a defective device, and it can cause serious complications. Belt claims that he continues to suffer form his aggravated injuries as a result of the device implant as well as the revision surgery he was forced to undergo.
Counts brought against Zimmer
The plaintiff is charging Zimmer with violation of consumer protection statutes, breach of warranty, negligence, failure to warn, and strict liability. He is seeking compensation for his injuries and costs caused by his injuries; the amount will be determined at trial.
[SmartLink zimmerkneelawsuit]