New York and Tennessee Plaintiffs File Joint Yaz Lawsuit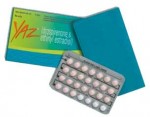 Two women, one from New York and the other from Tennessee, have joined together in a lawsuit alleging complications from the contraceptive Yaz.
The plaintiffs, Anita Goodwin of Tennessee and Tiffany Robinson of New York, filed their lawsuit on October 5, 2012 in the Superior Court for the State of California (Los Angeles County. The lawsuit names as defendants Bayer Corporation; Bayer Healthcare Pharmaceuticals, Inc.; Bayer Healthcare, LLC; Bayer Schering Pharma AG; Barr Laboratories, Inc.; Teva Pharmaceuticals USA, Inc.; and McKesson Corporation.
Multiple counts brought against defendants
As with other Yaz litigation, the plaintiffs allege that they suffered injuries from Yaz. Their lawsuit brings multiple counts against the defendants, including negligence, failure to warn, manufacturing defect, fraud, strict products liability, breach of express and implied warranties, and violation of business and professions codes. They seek punitive, compensatory, treble and other damages.
Studies show Yaz increases risk of blood clots
Yaz and its predecessor, Yasmin, are the only birth control pills in the U.S. that contain drospirenone, a fourth-generation progestin. In April 2012, the FDA strengthened the warning on the Yaz label to note that "some epidemiologic studies reported as high as a three-fold increase in the risk of blood clots for drospirenone-containing products."
It is believed that drospirenone reacts with ethinyl estradiol, the main ingredient in Yaz and Yasmin, in a way that does not sufficiently counteract the clotting effects of estrogen. This means that use of drospirenone-containing products like Yaz and Yasmin can cause blood clots, which in turn can lead to stroke, deep vein thrombosis, pulmonary embolism, and other life-threatening complications. Learn more about Yaz side effects.
A multidistrict litigation, or MDL, has been established in the Southern District of Illinois under Judge David R. Herndon to consolidate more than 6,600 lawsuits alleging complications from Yaz and Yasmin. Bayer recently announced that it has already paid more than $402 million in settlements of Yaz cases, and has set aside an additional $610.5 million to settle pending lawsuits. But some industry analysts, such as Richard Vosser of JP Morgan Chase, believe that by the time all the cases are settled, Bayer may end up spending as much as $2.5 billion in settlements of Yaz and Yasmin cases.
[SmartLink yazlawsuit]