Ohio Couple Joins Yaz Litigation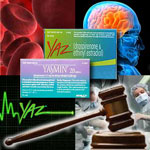 Lisa and Bruce Westall filed their lawsuit against Bayer Healthcare, et al. on the third of October, 2012. The Ohio couple are joining the multidistrict litigation case dealing with side effects of the popular oral contraceptive that is taking place in the United States' District Court for the Southern District of Illinois. Plaintiffs involved in the MDL are claiming serious side effects including blood clots, stroke, deep vein thrombosis, and even death that they or their loved ones have experienced as a result of their use of Yaz.
DVT cited in complaint
Lisa Westall joins Yaz litigation with the claim that she began using the fourth-generation birth control pill in September of 2009. On October 15, 2012, her lawsuit claims that she was diagnosed with deep vein thrombosis, which she says has caused her severe and permanent personal injuries, emotional distress, and pain and suffering. Her husband, Bruce Westall, is claiming loss of consortium. Their lawsuit, like many others involved in the Yaz MDL, claims that the active ingredient drospirenone has not been adequately tested in a way that would prove its safety.
The Westalls' lawsuit is similar to many others that have been filed in the ever-growing multidistrict litigation case dealing with side effects of the popular birth control. The most commonly cited side effects are blood clots, which can cause deep vein thrombosis, stroke, and pulmonary embolism, which can be fatal if they are not treated quickly and effectively. Several Yaz death claims are also included in the ongoing multidistrict litigation case. Although some plaintiffs are likely to reach settlements with Bayer outside of court, others will go forward with lawsuits.
Plaintiffs seek compensation for serious injury
The Westalls are charging Bayer with defective manufacturing, defect due to inadequate warning, defect in design or formulation, defect due to nonconformance with representations, negligence, breach of express and implied warranties, unjust enrichment, and negligent misrepresentation and/or fraud. Click the link for more information about Yaz litigation and what you can do to get involved.
[SmartLink yazlawsuit]