Plaintiff Suffers Zimmer Hip Metallosis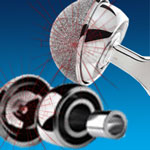 A new Zimmer hip implant lawsuit was filed in federal court in Newark, New Jersey, by Richard and Bonnie Weiner. The couple claims that Bonnie's defective Zimmer Durom Cup hip replacement devices caused her serious complications that include metallosis. Eventually, Bonnie received surgery to remove and replace the devices in both hips in order to help mitigate the complications associated with complications from the Zimmer hip that she was implanted with.
Plaintiffs join hundreds of lawsuits
The couple's complaint was filed on October 24, 2012, and details the history of Bonnie Weiner's hip replacement systems. She received her first Zimmer hip replacement device in her right hip in June of 2007, and received her second hip implant in her left hip in November of that year. However, the plaintiff was forced to have both devices removed at the direction of her doctor in 2012. It was found that the plaintiff had a condition known as metallosis, which occurs when metal-on-metal joint implant components scrape together, which flakes off microscopic pieces of metal which then enter a patient's bloodstream causing pain, swelling, loss of surrounding bone, or death of the surrounding tissue.
The New York Times published an article in March of 2004 detailing the high number of complaints patients had filed regarding metal-on-metal hip replacement system. In 2011 alone, the Food and Drug Administration received more than 5,000 complaints regarding problems associated with the devices. However, the agency has not issued a recall of the devices, despite growing concern about the risks associated with them and an ever-increasing number of lawsuits against device manufacturers.
Plaintiffs seek Zimmer compensation
The Weiners, like hundreds of other patients who have filed suit against Zimmer, are seeking compensation for Bonnie's injuries. they are charging Zimmer with product liability violations, breach of implied and express warranties, punitive damages, and loss of consortium. They are hoping for compensation that will help them cover medical-related costs associated with Bonnie Weiner's injuries.
[SmartLink zimmerhiplawsuit]