PPHN: A Dangerous Birth Defect Linked to Zoloft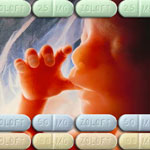 The SSRI antidepressant Zoloft (sertraline) has been linked to numerous birth defects in children whose mothers took the drug during pregnancy. One of these dangerous Zoloft birth defect is PPHN. PPHN occurs when the fetal blood vessel called the ductus arteriosus fails to close after birth, impairing the circulation of oxygen in the baby's bloodstream and causing rapid heartrate and other complications.
Symptoms and complications of PPHN
Symptoms of PPHN of the newborn from Zoloft include respiratory distress, heart murmurs, elevated heartrate, rapid breathing, and cyanosis (a bluish tint to the skin).
PPHN can cause many serious complications including circulatory disorders, respiratory difficulties, organ failure, seizures, hearing loss, neurological problems, and developmental delays. Up to 20 percent of babies born with severe PPHN do not survive. Although some children with PPHN go on to live healthy lives, others face a lifetime of expensive medical treatments.
Studies about Zoloft and PPHN
A study published in the New England Journal of Medicine found that women who ingest Zoloft or other SSRIs after the 20th week of pregnancy have six times the risk of giving birth to a baby with PPHN compared to women who did not take SSRIs. The national average rate of PPHN is two of every thousand births, but among women who took SSRIs like Zoloft after the twentieth week of gestation, the rate was 12 out of every thousand births.
Another study, published in 2010 in the American Journal of Nursing, found that babies whose mothers took SSRIs during pregnancy were more likely to be born with heart defects and malformations such as atrial septal defects and ventrical septal defects. The average rate of such defects is .5 percent, but among babies born of mothers who took SSRis during pregnancy, the rate was .9 percent.
The FDA has classified Zoloft as a category C medication, which means that it can harm a developing fetus when ingested during pregnancy. In 2006, the FDA issued a public warning about the risk of Zoloft birth defects, including PPHN.
Many parents of children born with PPHN or other Zoloft birth defects have filed lawsuits against manufacturer Pfizer. A number of these lawsuits have been consolidated in a multidistrict litigation in the Eastern District of Pennsylvania under Judge Cynthia Rufe. As more is learned about the link between Zoloft and birth defects such as PPHN, it is likely that more such lawsuits will be filed in future.
[SmartLink zoloftlawsuit]